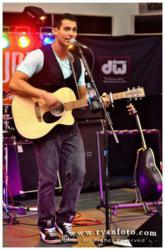 Bethlehem, Pennsylvania (PRWEB) November 09, 2012
Bethlehem, Pennsylvania recording artist Blaise Delfino has slated a busy fall schedule, including partnering with one of the industry's most innovative full-service music companies, Pledge Music. The jam-packed itinerary celebrates his current and future involvement with Autism Speaks (http://www.autismspeaks.org), the world's leading autism science and advocacy organization, in which he is donating 10% of all proceeds raised through Pledge Music to the organization. Autism Speaks is dedicated to funding research into the causes, prevention, treatments, and a cure for autism.
A truly global trek, Delfino is striving to challenge himself both professionally and personally to positively affect the global community in its continued fight against Autism. In doing so, the goal is to both advance his music career by raising $15,000 (which will open doors to re-record his debut LP "Away From Me" and secure an independent distribution deal), as well as his medical career (one that will be with him throughout the entirety of his life) by building grassroots relationships within the field; the occupation (derived from his academic involvement) is focused in the field of speech-language pathology.
Over the next two months, Delfino and camp will work to put in the necessary leg work to make the campaign and partnership as successful as possible. An accompanying video has been produced to support his effort, which can be seen by visiting Pledge Music. Stay tuned for more information, but be sure to support the movement and share the information across today's multitude of social media platforms.
# # #
MEDIA CONTACT:
Scott Randell (National/Online)
631.742.8178