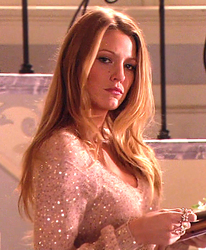 I started Mia Pezzi because I wanted the extra special pieces that women can keep forever and the flower ring is my signature piece for the brand
Beverly Hills, CA (Vocus) November 17, 2010
Episode ten this season opened up with more glitz and glam as Blake Lively (starring Serena van der Woodsen) sets the style of the season with the limited collection Incantato Ring from the Mia Pezzi Collection. Made with solid 18 carat rose and yellow gold with the drizzle of diamonds, the flowers intertwine together like a bouquet, valued at $7000 a piece. The stackable rings are playful and adjustable as you can wear them on different fingers like Lively or on the same finger.
"I started Mia Pezzi because I wanted the extra special pieces that women can keep forever and the flower ring is my signature piece for the brand," states the designer Julie Liu.
Liu started Mia Pezzi in 2008 as an exclusive brand with one of a kind pieces of large luscious cocktail rings with rare and colorful precious gemstones and diamonds. Diamonds, sapphires, rubies, and emeralds are just some of the necessities. However, Liu has acquired a collection of gems that are so rare, some colors are not available on the market anymore. Prices of the collection range from $2,500 - $400,000.
"As a captain back in the 1960s, my father would bring home an array of gems for my mother; I grew up playing with them which they are now part of the family collection," says Liu.
Soon after Mia Pezzi, Liu started the brand TZEN for a more playful look in an affordable price point with fine sterling silver and colorful semi-precious gems. The same flower ring shown on Lively in silver and no diamonds is only $198 at TZEN. In a little over a year, TZEN has won the hearts of many celebrities including Kelly Rutherford, Blake Lively, Viola Davis, Tamara Tunie, Rachael Ray, etc. In addition to the quick buzz, TZEN recently won the prestigious Rising Star award from the Fashion Group International.
From magazine editorials and the red carpet, TZEN has now become a consistent favorite of Gossip Girl and at the forefront of fashion. From Kelly Rutherford starring Lily Bass to Lively and even the Dean of Columbia, everyone adores TZEN.
About TZEN and Mia Pezzi
Mia Pezzi is a collection of one of a kind couture pieces with precious gemstones custom cut to each piece. Jewelry pieces in this collection take anywhere from 2-12 months on average to make for each design. Therefore, they are truly one of a kind and extremely high quality. Rare colorful gemstones ,exotic diamonds, intricate designs are a specialty. Mia Pezzi means Mia's pieces in Italian and fuses Italian boldness with Asian intricacies from the designer's roots. Visit the collection and pieces at MiaPezzi.com. All pieces by appointment only or at one of the designer events.
TZEN is a collection of unique limited collection jewelry made with bold colored gemstones that fuses Italian couture with Asian intricacies. Pieces are meant to take you from day to night and from jeans to gowns. Each piece is handmade and is available in high end boutiques around the United States and online at TZENBoutique.com.
About Gossip Girl
Gossip Girl is The CW hit television series airing on Monday nights paying tribute to the latest high end fashion. With the same costume designer as Sex and the City, Gossip Girl is already taking the lead as the series to watch for the latest in designer couture as well as the juicy story line of socialites and the privileged (Kelly Rutherford as Lily Bass / van der Woodsen, Leighton Meester playing Blair Waldorf and Blake Lively starring Serena van der Woodsen) from the Upper East Side of New York.
###