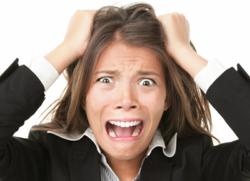 "Stress is your body's way of responding to any kind of demand," stated Sarah Blake, when asked for a definition of stress, "Stress can be good or bad. Regardless, we need to learn how to deal with the extra strength and energy we have when stress hits."
Columbia, MD (PRWEB) January 17, 2013
Stacey Hellman, a licensed clinical social worker and an associate at Blake Psychotherapy, has announced the start of a 6-week series called the "Relaxation Response" group. The 1.5 hour group will be held on Saturdays from 1:30pm-3:00pm at the main office in Columbia, MD, beginning on February 9th and continuing for 6 consecutive weeks. The purpose of the group is to learn easy and effective ways to handle stress, which many people struggle with especially around the holiday season and Winter months. The cost is $210, or $200 if paid by the end of January.
"In my experience working in the addiction field, it is clear that many people lack the necessary tools and techniques to diffuse the stresses of life in healthy ways. As a result, they often turn to quick fixes such as drugs, alcohol, cigarettes, compulsive shopping, and binge eating in attempts to comfort themselves," Hellman states. "Ironically, the most effective and long-lasting strategies for stress management are health-promoting, easy to learn and use, and available to everyone," she adds.
The format of the group will be mostly experiential, with some dialogue to process the exercises and reinforce what has been learned. Techniques such as guided meditation, various breathing techniques, simple yoga postures, and body centered exercises will be offered to group members. Objectives for the group can be found on Ms. Hellman's page of the Blake Psychotherapy website. According to Hellman, "It is important to have repeated exposure to these techniques in order for them to be effective once the group ends. Financial concerns, family issues, and health problems will recur throughout a person's life." To register for the group, you may contact Stacey Hellman at 410-206-8573.
Blake Psychotherapy & Associates is comprised of three clinicians (Sarah Blake LCSW, Stacey Hellman LCSW-C and Sharon Cannon PhD). The group practice, formed in 2012, is an expansion of Sarah Blake's private psychotherapy practice and is still in the process of growing. At Blake Psychotherapy, clients are treated for a variety of issues such as depression, anxiety, eating disorders, addictions, trauma, and many others. If you are seeking treatment and would like more information about the services they provide, or would like a more detailed description of the Relaxation Response group, visit their website at http://www.blakepsychotherapy.com.