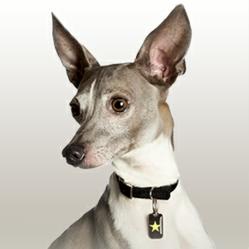 There were so many animals that needed adoption. We wanted to help them all.
Victoria, BC, Canada (PRWEB) November 30, 2012
When Martin and Cate Hubbard made the decision to adopt their pet cats Milly and Poppet, they had no idea what they were getting themselves into. They were certainly aware that an adopted cat could have behavioral issues. They were ready to accept an animal requiring additional nurturing. Both of them were caring, and patient people. Nothing like that was going to hold them back.
But something did.
"There were so many animals that needed adoption. We wanted to help them all. Of course we couldn't... but it was heartbreaking to feel so helpless." Says Cate.
Much of the problem lies in the breathtaking scope of animals in need. The ASPCA estimates the number of community animal shelters at approximately 5,000 across the United States alone. Most of these shelters are already beyond capacity. A shocking 60% of dogs, and 70% of cats on average are euthanized to make room for additional animals, with this average spiking to 90% in some locales. Some animals last only 72 hours.
Rather than sitting helplessly on the sidelines, Martin and Cate created Blanket ID; a visual ID pet tag service that stores a pet's information and photograph online and broadcasts this to relevant local shelters whenever a pet goes missing. This has helped shelters to quickly identify animals, and alert the owners that their pet was found (in many cases before the owner ever realized their pet was missing). In addition, the pair made sure that part of the proceeds from every sale went to help animal charities in need; but there was still a problem.
"There are thousands of organizations helping animals out there, and they all need money to operate." Says Martin, "What we really needed to find, was a stream of limitless funding for the organizations that needed it, without adding a requirement for them to spend any more time or precious resources."
Their answer became "Donation By Design".
"It's a simple idea really." Says Cate, "Design a custom tag, and tell us which organization is closest to your heart. There are a lot of animal-loving, creative people out there. The Internet has created huge followings for some of them and they have fantastic talents to use."
Celebrities have always used their star power to drive awareness for their favorite causes. Paul McCartney, and Sarah Mclachlan have donated their time and talent to animal welfare organizations worldwide. Ellen Degeneres is another avid animal supporter, using her TV time to support causes like the Best Friends Animal Society, or The Gentle Barn.
The Internet has created a different form of celebrity: The social media superstar.
Christine Martinez currently has over 4.9 million followers on Pinterest, the social network for sharing interests and inspiration. That's an astounding number of fans for a dog loving interior designer, and she's using her Internet clout for good.
"Christine was very eager to join in. We were proud to add her as a supporter." says Cate.
Christine (along with her canine companion Miles) has chosen to support the San Francisco SPCA with her custom tag design. Five dollars from every tag sold will go to support the SFSPCA. Additional funds will be donated for every year of blanket ID membership.
Now consider:
If just one tenth of one percent of Christine's 4.9 million Pinterest followers purchased her tag, the SF SPCA would receive an instant cash injection of nearly $25,000 without even including the membership bonuses.
That's a significant donation from anybody.
Fiona Richards from Cartolina, and Lili Chin from Doggie Drawings (who have each rescued their pets), are two other designers already on board for the launch of Donation by Design. The new website launched this week at http://www.blanketid.com, and both Martin and Cate are hoping to grow the program with more celebrities looking to make a difference.
This is not their first crack at growing funds for animal welfare. Already, blanket ID operates two other successful charity programs, diverting funds to organizations in need.
"The number one goal is to help these animals that can't help themselves." Says Martin. "If we have money, great, we can use our money. If we have creativity, or influence, why not use that? It's all a positive contribution."
About Blanket ID ---
Blanket ID was started in 2009 as a way to keep track of pets using information stored online. With members now in 15 countries, their tags have helped to save thousands of companion animals. Animal lovers can join the blanket ID network for free if they wish to be notified in real time of any lost local pets.