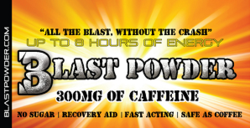 Blast Powder is the healthy alternative to energy and sports drinks in a convenient packet
Los Angeles, CA (PRWEB) July 14, 2011
Whoever said you couldn't choose how your energy tastes was wrong, and Blast Powder® is about to show the world what is truly possible when looking for that extra boost of energy with a new energy supplement that is about to hit the market. With 90% of Americans consuming caffeine in one form or another each and every single day, this new caffeine energy powder is about to shake things up.
"Blast Powder is the healthy alternative to energy and sports drinks in a convenient packet," said John Richards, vice president of Consumer Relations and Marketing at Blast Powder®. "Other popular energy drinks, such as Red Bull and Monster, often contain high levels of sugar and other ingredients that your body does not need. Blast Powder is an all-natural alternative for people looking to get a quick blast of energy, without the crash."
Blast Powder® is packaged in a single-serving packet and it comes in powder form; containing only 6 calories and no sugar per serving. Blast Powder® Executives have years of industry specific experience and worked more than a year to come up with the right formula of ingredients that would work together to provide a person with many options on how they could get their energy and get it fast. Richards explains, "the formula is three natural ingredients: Caffeine, Stevia and Creatine Monohydrate. We didn't want to create some elaborate energy blend with ingredients people have never heard of or couldn't easily look-up online. Many of the energy drink companies hide their formula under the veil of calling it a proprietary blend or trade secret, that's just another way to not have to tell consumers what they are putting into their bodies. At Blast Powder, we pride ourselves in giving our customers full disclosure on what's in our product. We have nothing to hide, just a great new product to showcase to the world."
With Blast Powder® you can add it to your juice, sports drink, water or sprinkle it on food. Some even take it straight from the packet to achieve the fastest absorption. Richards explains, "Caffeine naturally has a bitter taste, but that is why Blast Powder has added Stevia to our formula, which can taste 30 times sweeter than sugar." Steiva is a South American herb that has been used as a sweetener by the Guarani Indians of Paraguay for hundreds of years. It has many excellent properties. The body does not metabolize the sweet glycosides from the stevia leaf or any of its processed forms - so there is no caloric intake. Stevia doesn't adversely affect blood glucose levels and may be used freely by diabetics.
According to BeverageDaily.com, in 2007 energy drinks were single-handedly responsible for boosting the U.S. beverage market. Outperforming all other categories, one sports drink even managed to "inch its way into the nation's top five trade marks by displacing a popular soda brand." Indeed, while total sales in the carbonated soft drinks category dipped by just over one percent during the year, "sales of energy drinks shot up by almost 50 percent." And market analysis predicts that no slowdown in that growth is anticipated.
That's good news for retailers who stock energy drinks, and Blast Powder® is giving its resellers an even bigger incentive to encourage a Blast Powder® taste test. That's because as a Blast Powder® affiliate, they can earn as high as 40% referral incentive.
"In these tough economic times, we wanted to reward those individuals who help spread the word about our product. That's why we devised our affiliate program to allow anyone to make some extra money. It's our way of saying thanks," said Richards.
Blast Powder® is positioned to practically sell itself. And with no frills or fancy marketing campaigns associated with it, Blast Powder® is affordably priced. Manufactured in the good old USA, Blast Powder® is the latest energy supplement to hit the booming energy drink market. Retailers and consumers who would like to learn more about getting their hands on this amazing new energy product can visit Blast Powder® online at http://www.blastpowder.com. You can also find the product selling on Amazon.
For more information on the Blast Powder® referral program, send an email to info(at)blastpowder(dot)com.
###