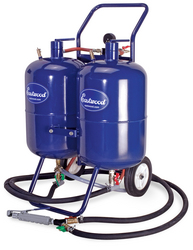 Pottstown, PA (PRWEB) June 8, 2009
Eastwood's New Dual Tank Blaster now combines the best of both worlds for abrasive blasting. The patent pending, trigger-mounted Mixing Valve allows the operator to switch between bicarbonate soda and any other abrasive media of choice for on-the-fly removal of heavy rust, scale, powder coating or paint, even on delicate glass or chrome surfaces. The mixing valve also allows an infinite mixing ratio between the media to suit any job or coating at hand.
Eastwood's Dual Tank Blaster now offers the professional and do-it-yourselfer the ability to use soda and abrasive media in one convenient unit, with patent pending controls to quickly switch between media or to create a blend of both.
Effectively remove rust, paint, grease, grime, mold, mildew, corrosion, fire damage… Remove almost any foreign substance off of any surface.
Blast away paint and corrosion on auto parts, fiberglass boats, outdoor furniture, antiques or virtually any object you want to clean and refinish.
Quickly switch between abrasive media and soda media with the patent pending Mixing Valve to cleanly strip almost any type of surface you encounter.
Control and create your own blend of soda and abrasive that is just right for the job at hand.
Convenient and easy to set up, the Dual Tank Blaster requires just one air supply, operating on as little as 10 cfm at 120 PSI.
Heavy gauge, fully welded, powder coated frame and tanks will last for years of service. Each of the two tanks can hold 100 lbs of media. The heavy-walled, 10' blast hose ensures both safety and high-pressure velocity for quick coating removal.
Safely strip paint from fiberglass boats, aircraft aluminum, busses, trains, trucks, motorcycles and more. Additional applications range from stripping delicate substrates, architectural and industrial cleaning, paint stripping, and corrosion removal. Use to remove fire damage, mold, mildew, and graffiti from brick, concrete, limestone, granite, cement, tile, wood, sound stucco, siding and more. Effectively lifts away soot, charring and smoke residue, exposing the undamaged surface, leaving the wood looking like new. Remove heavy-duty oils and grease from engines and floors.
A "must have tool" for any maintenance shop where rust is a problem and paint removal is necessary such as Fabrication shops, Weld shops, Trailer Repair, Automotive, Heavy equipment, etc.
The Eastwood Company markets unique tools and supplies for repair, restoration, and modification of cars, trucks, and motorcycles. Founded in 1978, Eastwood constantly strives to develop new products to serve the home automotive hobbyist, recently introducing affordable soda blasting equipment and ceramic chassis paints.
For more information on the Dual Tank Blaster, the Eastwood Company and their other products, or to request a free copy of their full-color catalog, visit Eastwood's Soda and Abrasive Blaster website.
# # #