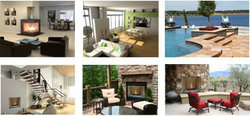 BlazingGlass.com is offering 30 – 50% below the manufacturer's suggested price during the holiday season. Free shipping for all orders over $150 and no sales tax, you can be sure not to spend your entire holiday budget.
Newport Coast, CA (PRWEB) November 23, 2010
As the air gets crisper and the days become shorter, all over the country people are decorating their homes and pondering gifts for their loved ones in preparation for the coming holiday season. While some are drawn to the illuminated reindeer and blow up snowmen, a California based company is providing people with a festive alternative for those seeking to spruce up their homes in a classy and functional manner. BlazingGlass.com specializes in fire glass, fire stones and ceramic fire balls, perfect for creating a holiday ambiance while giving warmth and beauty to all of your Christmas, Hanukkah, and other holiday plans.
With a variety of colors, shapes, and sizes, anyone can mix and match the colors appropriate for your holiday gatherings. Invite your family and friends to gather around and feel the warmth of a fire table glowing with Christmas cheer filled with a combination of our eco-friendly line of Crimson, Jade, and White fire pit glass beads. For a more understated ambiance, display a fire column filled with different sizes of their fire pit balls proudly lit next to a menorah. No matter the reason for the celebration, BlazingGlass.com has the solution for anyone's decorative needs.
This holiday season most are especially seeking ways to save money while not having to sacrifice their Yule tide festivities. Compared to other retailers of fire pit glass and ceramic fire products, BlazingGlass.com has prices listed 30 – 50% below the manufacturer's suggested price. Offering free shipping for all orders over $150 and no sales tax (including in California), you can be sure to not spend your entire holiday budget on these beautiful alternatives to traditional holiday decorations.
"If you are someone who uses the same decorations year after year, BlazingGlass.com is the perfect place for you to shop, as you can not only use these products during the holiday season, but instead they can be used the whole year round. You could spruce it up a little during the holiday season by adding a small amount of accent glass to the top of your fireplace or fire pit, maybe a bit of Red during Christmas time, Green on St. Patricks Day, Red/Green/Blue on Independence day, you get the picture," said Tonia Zev, Owner/Designer of Blazingglass.com.
Looking for the perfect Christmas or Hanukah Gift that will get used on a regular basis and won't get thrown in the back of a closet, Blazingglass.com is the perfect place to shop. They will be amazed by the beautiful glow emanating from the colored fire glass, or the soothing warmth created by the fire pit stones and ceramic fireplace balls. While other gifts tend to lose their appeal or are no longer usable as the season changes and the snow melts away, products from BlazingGlass.com last a lifetime.
This year as you gather with your family and friends for Christmas parties, Hanukkah festivities, or other holiday activities, make sure you do so with the warmth and glow provided by fireplace glass, fire stones, or ceramic fire balls available from BlazingGlass.com.
###