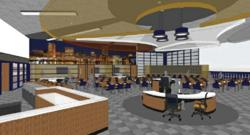 . I expect Nexus Academy schools will appeal to a wide range of students – from those who are ready to accelerate through high school to those who are looking for a more flexible and efficient academic setting...
Baltimore, MD (PRWEB) May 21, 2012
Connections Education (http://www.ConnectionsEducation.com), a leading provider of high-quality, highly accountable online and blended learning, will open high schools in Fall 2012 that offer students a comprehensive high school experience (including 18 Advanced Placement and many more honors level courses), in a more personalized, innovative and flexible school setting. The new Nexus Academy schools are tuition-free, open enrollment public high schools focused on college prep.
In the 2012-2013 school year, Nexus Academy schools will open in Ohio (planned for Cleveland, Columbus, and Toledo), Michigan (planned for Lansing and Grand Rapids, pending final authorizer approval), with additional schools planned around the country in future years. Nexus Academy schools will serve no more than 250 to 300 high school students in grades 9-12 *, ensuring maximum personal attention to each student. Enrollment is underway for the upcoming school year and information sessions for interested students and their families will take place in early June and throughout the summer. A temporary website is available at http://www.nexusacademyinfo.com/ and interested students and their families may call 888-533-6360 to learn more.
At Nexus Academy public schools, students will attend a uniquely designed physical campus where teachers interact with students both online and on-site, while campus-based "Success Coaches" help guide students through Connections Education's comprehensive online high school curriculum. Students will be provided with a mobile computer and other technology tools; allowing them to work anywhere within the Nexus Academy school as well as beyond, 24/7.
"I wish I had this option when I went to high school!" said Mickey Revenaugh, co-founder of Connections Education and executive vice president for Connections Learning. "Nexus Academy schools are going to provide a unique, engaging and high-quality public school experience that prepares students for success beyond high school in a truly intimate and personalized way. I expect Nexus Academy schools will appeal to a wide range of students – from those who are ready to accelerate through high school to those who are looking for a more flexible and efficient academic setting that allows them time to pursue career, artistic or athletic interests."
The new blended high schools will have a strong focus on academics and college readiness, and will foster an appreciation of lifelong learning. Students will have access to core academic courses in Math, Science, Social Studies, and English as well as Advanced Placement and Honors courses. Foreign language offerings will include Spanish, French, Chinese, Japanese, German, Latin, and Sign Language. Interesting electives will round out students' educations and offer opportunities to explore different subjects like Digital Arts, Introduction to Entrepreneurship, Engineering Design, Marine Science, and Game Design. Students may also participate in clubs and activities including Digital Storytelling, Debate and Chess, a Yearbook, an Environmental club, and much more. A robust education management system, Connexus®, will tie the online community together and provide students with access to lessons anywhere they have an Internet connection -- on-site, at home, at libraries and museums. The blended model allows for the first time, a truly customized education in an intimate, personalized environment without sacrificing any of the breadth of courses or specialized instruction and services that you would find in schools ten times as large.
Following a design custom-created by Godshall Kane Architects LLC, a Pennsylvania-based firm that specializes in school spaces, Nexus Academy campuses will include "team" areas with casual seating for both collaborative and individual work, seminar-style classrooms where students meet with teachers in small groups, hands-on science and art labs, a café, and a fitness center outfitted with gym equipment and offering unique fitness options through qualified personal trainers. Revenaugh continued, "Environment is very important and we are taking great care to develop settings that welcome teens, speak their language, and ignite learning (their way). We have been really inspired by some amazing renovated loft and industrial spaces, like Tyler Village in Cleveland – we envision bright, open spaces to foster creative thought and productivity."
Students will attend school on a morning or afternoon shift, ensuring an optimal student-to-staff ratio while allowing time in the school day for internships, college dual enrollment, and pursuit of personal passions such as sports or performing arts.
Nexus Academy schools are part of the Connections Education family, the e-learning pioneer that, for the past ten years, has helped transform education in the U.S. with Connections Academy full-time virtual public schools. Nexus Academy schools will leverage Connections Education's curriculum, a best-of-the-best collection of learning materials from leading publishers such as Pearson and McGraw Hill, as well as proprietary instructional tools and resources developed by Connections Education's expert curriculum specialists. Students will work with dedicated, certified teachers who are specially trained in the area of online learning and will have access to guidance counselors to help them navigate college and career decisions.
In keeping with Connections Education's focus on accountability, Nexus Academy schools are being launched in partnership with the nation's leading "best practice" charter authorizers: Ohio Council of Community Schools and the Central Michigan University Center for Charter Schools. Each school has its own distinct school board and will be using the Connections Education curriculum. Connections Education is accredited by AdvancED.
"Today's teens grew up with computers, cell phones, and social networks. Nexus Academy schools combine the best of online and onsite learning--personalizing and empowering--for an option that will be very well received," commented Tom VanderArk, author of Getting Smart: How Digital Learning is Changing the World, founder of GettingSmart.com, and member of the board for iNACOL (International Association for K-12 Online Learning).
Leveraging technology as a tool for learning, Nexus Academy schools will deliver a personalized and more flexible approach to learning and will appeal to a variety of students including: NetGen teens looking for a technology-enhanced way of learning, students who want more challenge and to move at a faster pace or those who need more time with certain subjects, and students seeking an individualized school experience with a more balanced peer dynamic.
For more information about Nexus Academy schools, call 888-533-6360.

Some schools may open to serve grades 9-11 and will expand next year.
About Connections Education
Connections Education is a leading, fully-accredited provider of high-quality, highly accountable virtual education solutions for students in grades K–12. Since 2001, the company's Connections Academy division has delivered individualized learning to students through virtual public schools and a private online academy. In the 2012-2013 school year, 24 Connections Academy virtual public schools will operate in 22 states and are expected to serve more than 40,000 students from across the U.S. The Connections Learning division meets the needs of schools, school districts, and other institutions looking to develop and enhance their online learning programs. Connections Learning delivers a full range of targeted digital learning solutions to the K-12 education community including online courses, a program for homebound students, a digital learning platform, and more. More than 1000 schools, school districts, state departments of education and other educational institutions, serving tens of thousands of students throughout the United States and beyond, are already utilizing Connections Learning products and services. Connections Education is committed to expanding quality education through technology and helping students achieve both academic and personal success. For more information, call 800-382-6010 or visit http://www.ConnectionsEducation.com. Connections Education is part of the global learning company Pearson (NYSE:PSO).
# # #
Media Contacts:
Allison Bazin
Connections Academy Senior Director of Public Relations
(609)247-0275
abazin(at)connectionsacademy(dot)com
Sandy Burke
Athena Public Relations
(203)655-3475
sandy(at)athenapr(dot)com