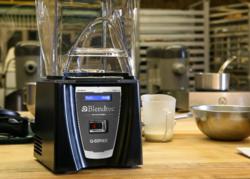 It's fitting that the world's premier culinary college would use the industry's best blenders.
Orem, UT (PRWEB) September 26, 2012
Blendtec® announced today that it is providing blenders to the prestigious Culinary Institute of America (CIA) to supply the legendary culinary college with high-end professional blending equipment. This allows students and faculty at the CIA to use the same industry-leading blenders that are found in restaurants and professional kitchens across the globe.
"It's fitting that the world's premier culinary college would use the industry's best blenders," says Tom Dickson, Blendtec founder and CEO. "Blendtec sets the highest standards in performance, innovation and durability, so we're a perfect fit for the CIA. We're proud to support the training of the next generation of world-class chefs."
Blendtec delivered the first set of machines to the CIA's Greystone campus in St. Helena, Calif., where students and faculty immediately began using the blenders. The company provided a broad range of blenders for the CIA to use, including the EZ™, SpaceSaver® and Q-Series® blenders, which were chosen because of their versatility and ability to stand up to heavy use over extended periods of time.
To learn more visit http://blendtec.com/commercial or call Blendtec directly at 800-748-5400.
About Blendtec
Blendtec manufactures industry-leading commercial blenders and dispensers for foodservice applications as well as commercial-grade blenders and appliances for home use. The award-winning Will It Blend? ® Internet video series (willitblend.com) demonstrates the amazing performance of Blendtec's blender technology and has raised awareness across the globe of the Blendtec brand. Sold in 90 countries, Blendtec products offer the total solution for anyone's blending needs, both in home and business. For more information go to blendtec.com/commercial, or call Blendtec directly at 800-748-5400.
About the CIA
Founded in 1946, The Culinary Institute of America is an independent, not-for-profit college offering associate and bachelor's degrees in culinary arts and baking and pastry arts as well as certificate programs in culinary arts, Latin cuisines, and wine and beverage studies. As the world's premier culinary college, the CIA provides thought leadership in the areas of health & wellness, sustainability, and world cuisines & cultures through research and conferences. The CIA has a network of 44,000 alumni that includes industry leaders such as Grant Achatz, Anthony Bourdain, Roy Choi, Cat Cora, Dan Coudreaut, Steve Ells, Johnny Iuzzini, Charlie Palmer, and Roy Yamaguchi. The CIA also offers courses for professionals and enthusiasts, as well as consulting services in support of innovation for the foodservice and hospitality industry. The college has campuses in Hyde Park, NY; St. Helena, CA; San Antonio, TX; and Singapore. For more information, visit http://www.ciachef.edu.