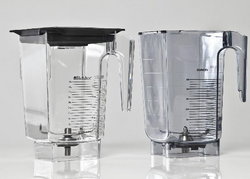 Judge Tena Campbell: This was not a close case.
Salt Lake City, UT (PRWEB) January 28, 2011
In a ruling filed late yesterday, United States District Judge Tena Campbell awarded $11 million in enhanced damages for a total of approximately $24 million to K-TEC (dba Blendtec), an Orem, Utah-based manufacturer of high-end blenders, and issued a permanent injunction prohibiting Vita-Mix from any further infringement. (Case # 2:06-CV-00108-TC)
Judge Campbell, of the US District Court for the District of Utah Central Division, ruled that Vita-Mix Corporation had knowingly and irreparably harmed Blendtec by its "deliberate copying" of Blendtec's patented 5-sided design for a blending container that reduces cavitation (the forming of an air pocket around the blade during blending).
The largest award in a patent infringement case in the history of the state of Utah
In June, a jury found "willful infringement" by Vita-Mix of Blendtec's patented design, and awarded Blendtec more than $11 million in lost profits and royalties (Also case # 2:06-CV-00108-TC). Judge Campbell's decision yesterday effectively doubles the award, and further adds damages for pre- and post-judgment interest which is expected to bring the total judgment to approximately $24 million, which would "probably make it the largest patent infringement award in the history of the state of Utah," according to Brett Foster of the firm Holland & Hart, who represented Blendtec.
"This was not a close case"
In her filing, Judge Campbell wrote extensively about her reasons for awarding Blendtec such a large sum in punitive damages: "Because Vita-Mix knew of K-TEC's patents and did not act in good faith, this factor weighs in favor of enhanced damages." "Vita-Mix made a substantial profit from the infringing sales" and "K-TEC presented substantial evidence at trial showing that Vita-Mix's infringement was willful. This was not a close case."
She also cited testimony by former Vita-Mix employees, such as Scott Hinckley, Vita-Mix's marketing director, who "testified about a long-felt need in the industry to reduce cavitation, and presented evidence that the K-TEC patents reduced cavitation." He also wrote, in an email about a customer, "They absolutely LOVE the new Blendtec container. This is an example of how it stacks up to ours: In our machine: 2 drinks take 30 seconds. 3 or more are impossible. In Blendtec's new container: 4 drinks in 15 seconds." Jonathan Katz, the director of engineering at Vita-Mix, testified that although Vita-Mix considered other, design-around concepts, it ultimately chose to continue its infringing design."
The system works
Tom Dickson, CEO of Blendtec and inventor of the revolutionary WildSide container that Vita-Mix copied, issued the following statement: "I am grateful to Grant Foster at Holland and Hart for drafting a great patent, and to Brett and the rest of the legal team for advocating so effectively to help us protect our intellectual property. But more importantly, I'm deeply grateful for the opportunity to take our case before a jury and judge to plead for protection from a large company that stole our revolutionary design for a better blending container, and presented it to customers – many of them ours – as if it was their own design. Score one for the little guy. The system works."
For the full text of Judge Campbell's ruling & other trial-related material, see: http://www.BlendtecVitamixLawsuit.com
Contacts:
Brett L. Foster
Partner, Holland & Hart
(801) 799-5836
Cameron Jaccard
Director of Sales & Marketing, Blendtec
(800) Blendtec
About Blendtec
Blendtec, a division of K-TEC, produces innovative, high performing , durable blenders for commercial and home use that have changed the way the world blends. Blendtec blenders, dispensers, and mixers are used by many of the best restaurants, juice bars, ice-cream parlors and coffee shops in the world.
http://www.blendtec.com
# # #