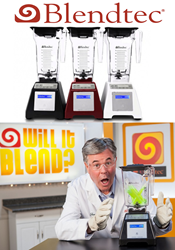 Wondering about Vitamix vs Blendtec? Blendtec mixers are designed with wide, square jar openings that allow for easy clean up. They are also more compact which allows for easy storage.
West Palm Beach, FL (PRWEB) May 30, 2014
The many reviews surrounding Blendtec, a popular, high-end brand of blenders that claims to create meals, snacks, and smoothies in just seconds, has caught the attention of RequestedReviews.com's Laura O'Connor, prompting an investigative review.
Health writer Laura O'Connor was researching blenders when she came across a glowing review for a Blendtec mixer. After digging deeper she found hundreds of great reviews and very few negative reviews. This prompted O'Connor to look deeper to see if the hype was real.
The Blendtec mixer was first developed by Tom Dickson, who is most popular for his 'Will It Blend?' series online. Dickson used a vacuum to clean up spilled wheat kernels in 1975, and has since then followed his inquisitiveness to change the mill and mixer business."
In her Blendtec review O'Connor talks about the features that this small machine comes equipped with. "It can turn your ingredients into yogurt, ice cream, juice, milkshakes, smoothies, marinades, dips, dressings, sauces, soups, fondues, syrups, batters, and much more. The possibilities are endless with this machine," says O'Connor.
O'Connor was also impressed that all the Blendtec blenders are rated at or above 3-peak horsepower, have an industry-leading 1560 watts of power, are BPA-free and come with an 8-year warranty. Each blender purchase also comes with a recipe book, an instructional DVD with 16 recipes in video format, and an owner's manual and users guide.
"If you are wondering about Blendtec vs Vitamix one thing that makes Blendtec mixers different from other high end blenders is that they are designed with wide, square jar openings that allow for easy clean up. They are also more compact which allows for easy storage in kitchen cabinets or on the kitchen counter," comments O'Connor.
Another thing that impressed the health writer was how no matter which model or series (Classic, Designer, Stealth, WildSide, Professional Series, Tom Dickson etc..) the blenders deliver consistent, quality results in terms of both texture and taste.
"Blendtec is coined as the world's most advanced blender, and the world's most intuitive blending machine for a reason," says O'Connor. She continues, "There's no questioning why this brand of blenders are found in commercial settings like coffee shops, restaurants, and juice bars."
In conclusion, O'Connor said that the large amount of positive reviews are founded on a quality product and are not simply hype. She mentions for those on a budget they also have a payment plan as well as certified refurbished models that sell for about one hundred dollars less.