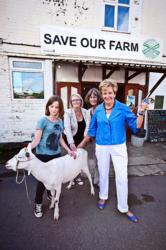 I feel extremely confident that Blenheim's knowledge and commitment to doing the job well are going to pay dividends to how we manage the organisation overall.
Bristol (PRWEB UK) 15 November 2011
Stoke Gifford based Blenheim Accounting is pleased to announce that Windmill Hill City Farm is the latest not-for-profit organisation to join their client base.
Windmill Hill's Chief Executive, Steve Sayers, explains; "We decided to outsource the financial management of the organisation because we wanted to draw on varied expertise rather than expect one person in-house to cover all the bases."
Mr Sayers goes on to say "We were looking for a team that could give us a high-level view of the financial management, deal effectively with specialist charitable status issues, and at the same time consistently manage the more routine, yet business critical elements such as payroll. It was also important that the company chosen would be able to complement the work of our in-house Finance Assistant and integrate with our existing systems where appropriate.
I'm glad to say that we found all these elements in Blenheim Accounting."
Windmill Hill City Farm was founded in 1976 as the first city farm outside London. In the years since, it has grown to offer a range of activities that involve people from across the city and has become a key provider of services to its local community. In the last two years the farm has come close to the brink of closure, but with the massive efforts of the staff, board and community has been saved. The farm is now looking to the future with optimism, but equally accepts that it needs to undertake its activity in a different way: acting in some of its activities in a more commercial manner, yet still retaining its openness to all members of the community. Clearly the new financial management arrangements will be critical in underpinning the recovery and growth of this much loved city hub for education and leisure activities.
"I feel extremely confident that Blenheim's knowledge and commitment to doing the job well are going to pay dividends to how we manage the organisation overall." concludes Sayers.
The firm of Chartered Accountants was established in 2002, since then Blenheim Accounting has been steadily growing a loyal client base who values a combination of ongoing and annual accounting services, in addition to the virtual finance director service that Blenheim is able to provide.
"We're delighted to be working with Windmill Hill and share their passion for making the city farm a success. Our job at Blenheim is to provide the financial know-how that enables the organisation to deliver on its vision of providing a central community infrastructure and a 'place where people grow." commented Chris Godden, Managing Director of Blenheim Accounting.
About Blenheim Accounting
While delivering reliable and flexible day-to-day financial support, Blenheim Accounting works alongside business owners and directors, helping them to make the most of opportunities in today's fast, complex and competitive market. We offer Virtual FD services, delivered by a 'real financial director' with genuine experience of client-side finance management and familiarity with a wide range of sectors. We're an accounting firm that moves with the times, making the appropriate use of IT systems to deliver speed, efficiency and accuracy.
Blenheim - It's the art of accounting.
For more information visit http://www.blenheimaccounting.co.uk
About Windmill City Farm
Windmill Hill City Farm was formed in 1976 by a volunteer group of local residents determined to see a piece of inner city wasteland put to more productive use, giving the local community the opportunity to experience farming in the heart of the city. It now offers educational and recreational facilities and activities for local people including a range of farmyard animals, community.
# # #