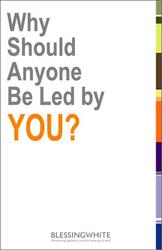 Why Should Anyone Be Led by You?
Princeton, NJ (PRWEB) April 10, 2009
Global consulting firm BlessingWhite is partnering with Europe's foremost experts on organizational culture and leadership, Professors Rob Goffee and Gareth Jones, to offer a blended leadership development experience based on the international best-selling book "Why Should Anyone Be Led by You?"
According to BlessingWhite President Christopher Rice, "The organizations that emerge from this economic tsunami successfully will do so because they harnessed the engagement and talent of their workforce. Yet employees are fearful, disillusioned and burnt out. They aren't producing their best work. More than ever, they are casting a critical eye at their leaders, assessing credibility and competence."
Co-author Gareth Jones adds, "Too often executives emulate famous business leaders and end up trying to be people they're not. This only adds to employees' perceptions that leaders are disingenuous. And clearly, that approach simply does not work. Our research indicates that successful leaders focus on building and managing their relationships with their followers. Great leadership excites people to exceptional performance."
The research of Professors Goffee and Jones identifies four primary needs of followers and critical authentic leadership practices that enable leaders to "be themselves -- more -- with skill." These findings are the centerpiece of the consulting, content and tools that BlessingWhite will offer to organizations worldwide. Rice explains, "Our partnership with Rob and Gareth enables us to provide flexible, relevant learning solutions for organizations looking to build high-performance cultures, shift business strategies, drive change, develop more inspirational leaders, fuel succession planning and accelerate the productivity of high potentials. We're honored to combine such celebrated thought leadership with our 35-plus years of consulting and training expertise to help our clients secure a bright future."
For more information, go to Why Should Anyone Be Led by You?.
BlessingWhite is a global consulting firm dedicated to creating sustainable high-performance organizations. Founded in 1973, the firm has worked with nearly three million professionals in thousands of organizations since its founding in 1973. http://www.blessingwhite.com/aboutus.asp?pid=1
Rob Goffee is professor of organizational behavior at London Business School, where he teaches on the world renowned Senior Executive Programme. Gareth Jones is a Fellow of the Centre for Management Development at London Business School and a visiting professor at IE Business School (Instituto de Empresa) in Madrid. They are past winners of the prestigious McKinsey Award for the best article in the Harvard Business Review, called "Why Should Anyone Be Led by You?" In addition to writing a best-selling book of the same name, Goffee and Jones have collaborated on The Character of a Corporation and the brand-new Clever: Leading Your Smartest, Most Creative People (global launch in October 2009).
###