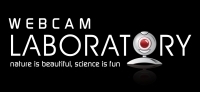 (PRWeb UK) March 1, 2011
With the help of WebCam Laboratory and a simple webcam, students and teachers are able to: measure the width of a Moon crater, the distance of a star or the length of a single-celled specie. You can also observe the periodical movements of a homemade pendulum or the playground swing. Only a student's imagination and curiosity to find out more can set limits for a series of fascinating experiments without the need for expensive and delicate equipment.
WebCam Laboratory is six software packages in one.
More product info

Time Lapse Cam: to analyse the dynamics of slow processes e.g. sun set, plant movement or even the hustle and bustle of the school corridors
Kinematics: to measure movement of objects using classical mechanics e.g. a pendulum
Microscope: to measure microscopic objects achieving 250 x magnification, or large objects at a distance e.g. the moon
Motion Cam: to capture those hard to catch events e.g. a bird feeding or a spider catching a fly
Universal Logger: to perform data logging by recording measurements using various types of analogue, digital or radial dial measuring instruments that normally could not be connected to a computer by simply reading the data using a webcam e.g. mercury thermometer, the school weather station, etc.
Pathfinder: monitors and records the density of movement within a defined area e.g. ant colony, a city street.
Stephen Copeland, Chief Operating Officer of Bli Education had to say about this new exclusive agreement:
"WebCam Laboratory is an innovative software tool with clear relevance to key areas of the science curriculum. The combination of being innovative, intuitive and possessing strong curriculum relevance gives it a strong market opportunity within the UK education sector. This type of tool will fit perfectly within BLi Educations ICT tools division, TAG Learning, as well as it's STEM (Science, Technology, Engineering and Maths) specialist, Economatics Education. We are delighted that Webcam Laboratory is joining our product portfolio."
"We strongly believe that WebCam Laboratory certainly fits well into the current trend of project based inquiry science and changes the way science is being taught by making it a hands on, fun experience and allowing students to do the same experiments at home as they have only been able to do in class. Being able to do this eliminates classroom pressure and students can explore natural science phenomena at their own pace. Using WebCam Laboratory lets puplis learn while having fun, not even knowing that they are learning. We are delighted to appoint Bli Education as our exclusive partner for the UK and we are convinced that they will provide the support and professional effort our product and the UK teachers and pupils deserve." said Zsolt Vaszary, managing partner of WebCam Laboratory, Intellisense Corporation Ltd.
For further information on Webcam Laboratory, including obtaining a press review copy, please contact Reeza Awoodun
Group Marketing Director
Telephone: 07810 878585
Email: r.awoodun(at)blieducation(dot)com
Notes to the editor:
About BLi Education
BLi Education is a leading technology supplier of software, peripherals and hardware into the education sector, both in the UK and internationally. BLi Education's vision is to develop and provide the most appropriate solutions for children and teachers to empower teaching and learning, stimulate creativity and equip them with 21st century technology skills.
The group comprises long established and popular brands such as TAG Learning (creative ICT tools), SEMERC (Special Needs software & peripherals), Sherston Software (curriculum content) and Economatics Education (Science and D&T). The in-house development team provides the focus for developing innovative new content for learning platforms, portable computing, games consoles and other new technologies. Working with schools, local authorities, awarding bodies and government departments, BLi Education ensures that children benefit from an exciting range of educational resources.
BLi Education is based in Wiltshire with distribution facilities in Sheffield and regional offices in London, Trivandum (India), Oregon (USA) and Cape Town (South Africa).
###