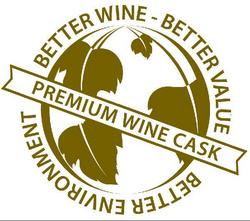 By choosing a premium wine cask package instead of carbon-inefficient heavy glass bottles, you'll reduce packaging waste by at least 85% and carbon emissions by 55%.
San Francisco, CA (Vocus) March 26, 2010
There's a new eco hip way to celebrate Earth Hour. When the lights go out at 8:30 pm, fun-loving friends of the earth can toast to breaking the glass habit.
In addition to joining millions of people around the world making a statement about climate change, eco-oenophiles can use Earth Hour to hold a blind wine tasting in the dark. Not just any wine tasting but one that allows them to explore the new era of premium Bag-in-Box (BIB) wines.
In the dark they'll be able to fully savor the excellent qualities of cask wines without knowing they came from a cask, not a glass bottle.
"Choosing a premium wine cask package instead of carbon-inefficient heavy glass bottles reduces packaging waste by at least 85% and carbon emissions by 55% without sacrificing quality. It saves green, too; a 3 liter box of wine holds the equivalent of four glass bottles but costs much less plus new technology keeps air out and flavor in for at least six weeks once the package is open," said Adam Richardson, Global Winemaker for Underdog Wine Merchants. Learn more at Better Wines Better World.
"We've surprised many people – even wine experts - with a 'blind wine tasting' of BIB wines", said Richardson who has held a blind tasting for the Society of Wine Educators and is very excited about the outcome of these types of blind tastings. Wine experts preferred Chardonnay and Cabernet Sauvignon in premium wine casks over similar bottled varietals by 2 to 1.
Here's how to host your own Earth Hour Tasting:
Invite Go paperless with invitation websites like Evite and Paperless Post. You can create an event on Facebook or design your own invite to email to guests.
Get Ready: Buy at least three 3L premium boxed wines for your tasting. Brands to try include Pinot Evil (Hungary), Big House (California), Monthaven (Central Coast), Silver Birch (New Zealand), Fish Eye (Australia), Herding Cats (South Africa) , J. P. Chenet (France) , Boho Vineyards (California), Foxhorn (Australia), Almaden (California), Casarsa (Italy) and Corbett Canyon (Chile). Remember, boxed wine stay fresh at least 6 weeks after opening so you can enjoy any leftovers. Buy one or two bottles of wine for comparison.
Get Set: Supplement your supply of glasses and decanters with a fun trawl through antique shops, flea markets, thrift shops and rummage sales. If you're using paper products, check the National Resources Defense Council guide for earth-friendly brands. Get soy-based candles to illuminate the tasting table.
Go: Pour each wine into a decanter labeled with a taped-on number. Write the corresponding number on the outside of each wine box or on the label of the bottle and hide them in the kitchen. Let your friends sample each and text you which one they liked best.
When you turn up the lights, tally the votes and reveal the true identities of each wine. Snap a photo of their faces when they find out that the best wines did not come out of a bottle. Upload your pictures to Facebook and then drink a toast to the Earth.
Underdog Wine Merchants are champions of "hidden treasure" or under-appreciated wines-ones that are truly unique, of great value and the true "underdogs" of the wine world. For information about Underdog Wine Merchants, visit http://www.underdogwinemerchants.com.
For more information about Premium Wine Casks, visit http://www.BetterWinesBetterWorld.com
Media Contact:
Patricia Schneider
Phone: (415) 717-7595
Fax: (435) 417-7595
Email: patricia9(at)comcast(dot)net
# # #