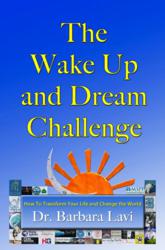 Everything you want is on the other side of fear...George Addair
Redmond, WA (PRWEB) October 23, 2012
In the popular ABCTV show, "What Would You Do?," with John Quinones, events are staged by actors to see what people do when confronted with hurtful actions by people in public places.
Here's some "What would you do?" parenting dilemmas to consider:
Imagine that your child is blind or visually impaired. Constantly, you warn them about falling down. They want to learn to ride a bicycle, but keep falling and hurting themselves. You fear for their safety, but want them to have a normal life. What would you do?
Neighborhood kids take your child to the playground. Hours later, a stranger calls. Your child was left stranded in the park not knowing how to get home. What would you do?
In high school, teenagers taunt the students who guide your child from class to class. Calling them retarded or stupid. What would you do?
Would you try to shelter your child? Would you take away the bicycle and tell them it is too dangerous? Would you seclude your child in schools for the blind and avoid neighborhood kids who fail to understand that bullying the blind is cruel and unacceptable?
All parents struggle to keep children safe while encouraging them to dream, but it is more challenging for parents of blind children since the statistics are stacked against dreams of independent living. Dr. Lavi, author of The Wake Up and Dream Challenge, spoke with Ron Peck, co-founder of the Blind Judo Foundation, Lori Pierce and her parents to understand what helps 30% of blind adults become self-sufficient following their dreams.
Lori Pierce's parents grappled with safety issues daily as they raised their adopted daughter, Lori who is blind. Miraculously, they gave her the confidence to not only ride a bike, but also to run track and play modified soccer. They practiced what Dr. Lavi calls "dream parenting," encouraging their children to follow their dreams even when they are attempting to do something they may be concerned about.
Despite their fears, the Pierce's trusted Lori's judgment while keeping a watchful eye. Lori's seven siblings treated her as "normal" and also encouraged her to try things. With "dream" parents and siblings, Lori learned to "dream" of possibilities. She met and exceeded the "challenges" along the way.
When the Pierce's learned about the Blind Judo Foundation's program, they dared to introduce her to a sport many parents would have feared. Their experiences make them strong supporters of a new campaign to raise money for the Blind Judo Foundation which they believe was life changing and crucial in empowering Lori.
Judo taught Lori how to fall down, get up and persevere. It empowered her to stand tall and triumphant as the 1st Silver Medalist as a member of the 2004 US Paralympic Judo Team held in Athens. She gained the self-confidence to pursue and complete a Bachelor's Degree in Psychology at the University of Texas, far from her family in Colorado.
Judo also helped her believe in her ability to coach blind children in Judo, work on her Teaching Certificate and live independently at age 28. It all started by "waking up and dreaming" of things many blind people do not dare to dream.
Dr. Lavi believes that Blind Judo and how Lori's parents responded to the unique challenges of raising a blind child played a significant part in why Lori and her dreams thrived. Since Dr. Lavi believes that if one person can accomplish a dream, anyone can, she launched a joint fundraising campaign to help the Blind Judo Foundation teach blind and visually impaired children and wounded warriors to fall down so that they too can learn to dream it forward like Lori.
Dr. Barbara Lavi, is donating half of the profits from sales of her book to teach more children to dream using Judo to enhance self esteem, empower self confidence and stomp out bullying of the blind. When ordering the book please write "Blind Judo Foundation" in the "comments" section. Please consider changing lives with the purchase of the book and donate to the work and mission of the Blind Judo Foundation at http://www.blindjudofoundation.org/donate.php