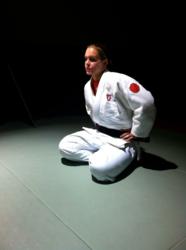 Life is what is happening to you while you're busy making other plans...John Lennon
Redmond, WA (PRWEB) September 11, 2012
Jordan Mouton, a 23 year old female Judo athlete (Judoka) from Houston, TX and a member of the Blind Judo Foundation and Cahill's Judo Academy, has been an ardent sports enthusiast and Judo player from the early age of 15. She was discovered at the Olympic Training Center in Colorado Springs, CO by the former US Olympic Judo Coach, Willy Cahill and at the time the US Paralympic Judo Coach who was a part of a camp to introduce blind and visually impaired individuals to many sports for the blind.
Out of 35 individuals experiencing Judo as an option, the class was narrowed to 25 students that demonstrated promise in the sport of Judo. Of the 25 one person, Jordan Mouton that stood out as being exceptional. Both of Jordan's parents were at the camp and realized the possibilities to nurture the sport of Judo in their young daughter.
Coach Cahill invited Jordan to his Judo Academy in San Bruno, CA. The parents agreed and it wasn't long thereafter that Jordan's Mom showed up at the Academy. This went on for several occasions until Jordan, still having some sight made her own way to CA to train at the Academy. This is all it took to solidify that Judo was going to be Jordan's sport of choice.
Advancing several years and as seen in a previous Press Release, the Blind Judo Foundation was contacted by a Hollywood Movie Production company, Participant Media wanting to produce a Documentary about changing lives of the blind and visually impaired through the sport of Judo. Who best to demonstrate the value of Judo for the blind and visually impaired than Jordan Mouton?
Participant Media was able to influence another Hollywood production company, Bandito Brothers to actually do the filming for the Documentary. After 6 fourteen hour days filming at Cahill's Judo Academy the raw data was captured. Jordan is the center-piece of the Documentary on her Road-to-Gold and member of the US Paralympic Judo Team. Her goal, not only as a member of TEAM USA is to empower other blind and visually impaired individuals to become all they can become through the sport of Judo.
Two weeks later Participant Media's digital arm, TakePart.com released the Trailer called Blind Judoka. The trailer, seen around the world, now has 6 Episodes supporting the Trailer along with several Extras all available on YouTube or directly from TakePart.com. As of this writing, Episode 1 has over 99,000 "Likes" and it is suspected it will exceed 102,000 any time now. Following are the listing of the Episodes 1 - 6 with Extras so you can see for yourself how the whole scenario and progress Jordan is making.
The final chapter on the Road-to-Gold of this Blind Judoka Jordan Mouton is best seen in Episode 6. The Blind Judo Foundation, Cahill's Judo Academy, and the many professionals supporting Jordan are very proud of her and her accomplishments. Who would have thought a sport like Judo could be so impactful in building confidence, learning how to make and follow through on commitments, building character, learning humility, respect and responsibility? Jordan is a spokesperson for not only the blind and visually impaired but sighted individuals alike helping them set and accomplish whatever goals and aspirations they set out to do.
"You've not seen or heard the last of this Blind Judoka – Jordan Mouton" says Ron Peck, CFO & Co-Founder of the Blind Judo Foundation. Following is Episode 6 and Jordan's need to withdraw but not quiet. "But it's not over by a long shoot" according to Coach Willy Cahill, "it's just a new beginning."
How Can You Make a Difference in the Life of a Blind or Visually Impaired Child or Young Adult?
Unfortunately, Paralympic athletes do not get the same financial support or media coverage as an Olympian. Yet, these brave souls must meet the same rules, regulations, sanctioned tournaments, and more as regular Olympians do. All too often the Paralympics is confused with Special Olympics. There are no cognitive issues with these athletes, it's all physical. In this case the athletes are blind or visually impaired.
"Since Paralympians do not receive the funding and media coverage they need" according to Peck, the Blind Judo Foundation was formed to raise awareness about these courageous individuals and how the sport of Judo is positively changing their lives. The Blind Judo Foundation serves a large audience from children, young adults to our returning military men and women who have become blind or visually impaired.
As a nonprofit 501(c) (3) organization all donations are tax exempt. Contributions translate directly into equipment, classes, coaching fees, airline tickets to sanctioned events and much more. Please consider making a generous donation at http://www.blindjudofoundation.org/support.php or contact Ron Peck at roncpeck@blindjudofoundation.org or by phone 425-444-8256. Also check us out on Facebook. Thank You!