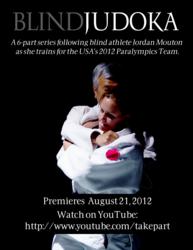 There are only two ways to live your life. One is as though nothing is a miracle. The other is as though everything is a miracle....Albert Einstein
Redmond, WA (PRWEB) November 27, 2012
TakePart TV, the digital arm of Participant Media produced a documentary of a blind female athlete that is defying the odds as she travels the road to Gold and member of the 2012 US Paralympic Judo Team. It is a story about a young girl who started to go blind at the age of eight and by the time she was a teenager was blind. However, her goals and aspirations would not be diminished because of blindness.
Jordan Mouton comes from a loving and supportive family who encouraged her to think positive and to not give up on her dreams. During her earlier years she engaged in soccer and is ranked sixth in the State of Texas in wresting while still in High School.
At age 15 at an Olympic Training Center Camp in Colorado Springs, CO she was introduced to several sports for blind individuals. When introduced to Judo, the former US Olympic Judo Coach and US Paralympic Judo Coach, Willy Cahill saw an outstanding and determined athlete as a candidate for blind Judo.
This blind Judoka visited Cahill's Judo Academy in San Bruno, CA and Jordan was hooked. Her story is about waking up her dreams of becoming an elite athlete with determination, dedication, sacrifice and training striving to become the very best and ultimately represent the USA on the world stage at the 2012 Games in London.
The International Academy Awards of Web Television is an independent organization of digital entertainment leaders founded in 2009 to promote and recognize artistic excellence and technological innovation in the Web television and digital entertainment industries.
The Blind Judo Foundation is a nonprofit organization comprised of volunteer leaders and coaches empowering blind and visually impaired children, young adults and our returning wounded warriors that have become blind, through sports.
Judo is about building confidence and enhancing independence to the blind with introductions and training in the sport of Judo lead by a Black Belt Hall of Fame and Black Belt Coaches Hall of Fame, Willy Cahill, Co-Founder of the Blind Judo Foundation.
Donations can be made at http://www.blindjudofoundation.org/donate.php or by contacting Ron Peck, Co-Founder at 425-444-8256 or roncpeck(at)blindjudofoundation(dot)org All donations are 100% tax exempt.