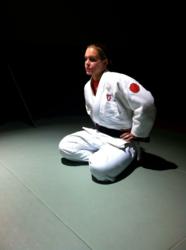 The Secret to Life is not to do what you like, but to like what you do.
Redmond, WA (PRWEB) August 30, 2012
Jordan Nicole Mouton, a blind athlete who is empowering blind children and young adults with her commitment, enthusiasm and accomplishments in a sport called Judo. Jordan has been going blind since the age of eight but her doctors didn't fully recognize the problem until she was twelve. She has always been an active person despite her blindness and she loves sports in general.
Sports, too many is one way to gain confidence, build a strong body and learn to work with others as a member of a team. Most individuals involved with sports--especially at the middle and high school levels--are also accomplished students. This is important when one plans to go onto college. Jordan was an outstanding student and always wanted to challenge herself not only academically but physically through sports.
While in high school she enrolled in other team sports but wrestling became her main attraction. Through dedication, hard work and sacrifice, Jordan was ranked 6th in the State of Texas in wrestling. Not an easy accomplishment but another example of her determination to not let her diminishing sight hold her back.
At age fifteen, Jordan was invited to the Olympic Training Center in Colorado Springs, CO to be exposed to many sports for blind and visually impaired individuals. The camps exposure would allow other blind and visually impaired individuals to experience various sports for potential consideration. Out of thirty-five young adults being exposed to Judo, the class was cut to twenty-five and one individual stood out as exceptional. That was Jordan. Leading the Judo camp was former Olympic and Paralympic Judo Coach Willy Cahill, who was so impressed with this young girl from Houston, TX that he invited her up to his Judo Academy in San Bruno, CA for further introductions and exposure to Judo.
It wasn't long thereafter that Jordan along with her mother Suzanna arrived in the San Francisco area at Cahill's Judo Academy. It was becoming clear by Coach Willy Cahill, who created over 1,200 national and international champions, that this 15-year-old had what it takes to become a champion in the sport of Judo.
Coach Cahill was the US Paralympic Judo Coach that led the US Paralympic Judo Team in winning Gold Medals for the first time in the history of USA Judo at the 2000 Paralympic Games in Sydney, Australia. Under Cahill's coaching leadership the US Paralympic Judo Team won two Gold Medals, One Silver and One Bronze Medal becoming the top ranked Team at the 2000 Paralympics Games. It is interesting to note that Gold has never been won by the US (sighted) Olympic Judo Team until the 2012 Olympic Games in London by Kayla Harrison. It was 48 years since Judo was introduced at the Tokyo Olympics in 1964 before the US Olympic Judo Team brought home the Gold by Harrison this year.
Jordan continued traveling to CA for training and also located a Judo gym (Dojo) in Houston to continue honing her skills. Since getting committed to the sport of Judo, Jordan has represented the USA in France, Brazil, Lithuania, Germany, Turkey and other national and international locations. She is not a quitter.
The Blind Judo Foundation was discovered by the Hollywood production company called Participant Media and their digital arm called TakePart.com. After extensive discussions with one of their Producers, the Blind Judo Foundation was advised that TakePart would like to produce a Documentary on the work and mission of the Blind Judo Foundation. This focus would be centered on one of its athletes, Jordan Mouton, a member of the US Paralympic Judo Team heading to the 2012 Games in London in August.
Participant and TakePart.com employed a production company called Bandito Brothers, whose most recent film is called Act of Valor. Act of Valor is currently in movie theaters and is about real Navy Seals. Ten members of the Production Companies ascended on Cahill's Judo Academy in San Bruno, CA for an intensive week of filming to produce a documentary. A trailer and several Episodes have been released.
The Blind Judo Foundation is a nonprofit 501 (c) (3) organization that looks to donations in carrying out their work of introducing the sport of Judo to all blind and visually impaired individuals. Donations to support Jordan and other blind and visually impaired individuals to the sport of Judo are tax exempt and can be made at http://www.blindjudofoundation.org/support.php
A Trailer is a part of this press release. Be sure to Share the video and mark Like.
More about the Blind Judo Foundation and our Board of Directors can be found at http://www.blindjudofoundation.org/missionboard.php as well as Facebook at http://www.facebook.com/BlindJudoFoundation