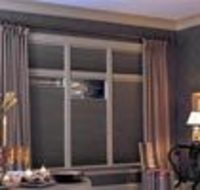 Pleated shades are a value priced alternative to honeycomb shades
Gilbert, AZ (Vocus) March 3, 2010
Select Blinds announces the introduction of its fashion forward, option rich, full line of Pleated Shades. The Select Blinds assortment includes their Sonoma Pleated shades, featuring no-holes privacy, and offered as both a light filtering pleated shade, and a blackout pleated shade.
"Pleated shades are a value priced alternative to honeycomb shades," according to Select Blinds' merchandiser, Rosa Hoverson. "Pleated shades and honeycomb shades both provide a soft fabric look, and both fold up when raised, but pleated shades are a single layer of material, while honeycomb shades are made up of cellular constructed double layer material." Ms. Hoverson continues, "The Select Blinds pleated shade line is totally revamped for 2010, and can now realistically be viewed as a value priced alternative to honeycomb shades."
Select Blinds' VP, Nate Kennedy, reinforces Ms. Hoverson's comments, "Our merchandising team has done an excellent job of bringing fashion, style, functionality, and value, to a category that has historically been a basic, no frills alternative to honeycomb shades." Mr. Kennedy explains, "The Select Blinds Sonoma collection, in both a light filtering pleated shade, and a blackout pleated shade, have already been lauded by many of our interior decorators across the country, as the premier pleated shade product." Mr. Kennedy adds, "The Sonoma Pleated shade features a no-holes privacy feature as standard, eliminating the pinprick rays of light that bleed through other brands of pleated shades."
The Sonoma pleated shades are available in a dozen fashionable colors, with names like, Antique Jade, Sterling Blue, and Naturale. The Blackout pleated shade blocks 98% of light, and reduces UV penetration by 95%. The options available on the Sonoma Pleated Shade include Continuous cord loop, cordless, which is the safest lift style available, top down / bottom up, and even the technologically advanced cordless top down / bottom up.
Completing the Select Blinds pleated shade assortment are the Select Pleated Shades, which is made from a luxurious single pleat material that provides superior pleat retention, and the price sensitive Budget Pleated Shades. The Budget Pleated Shades have a liner option to add further light control, and improved energy efficiency. The Select Pleated Shades are option rich with lift choices including Continuous cord Loop, and top down / bottom up.
The Select Blinds 2010 pleated shades, a perfect fit, every time.
About Select Shops, owner of Select Blinds:
Headquartered in Gilbert, AZ, Select Shops owns the leading online destinations for ready-to-install and custom-made home fashions, including SelectBlinds.com, SelectRugs.com, SelectFans.com and SelectBedding.com. Select Blinds is focused on providing a tremendous variety of blinds, shades and other windows treatments to its customers. All of Select Shops Web sites offer competitive pricing, all of its products. For more information, please visit http://www.selectblinds.com.
###