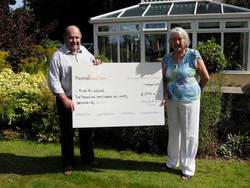 (PRWEB) August 22, 2009
Thomas Sanderson, the UK's leading manufacturer of conservatory blinds surprised a local couple this week, with the exciting news that they had "won their order back", to the value of £3778. Mr and Mrs Welland from Haywards Heath in West Sussex had entered the exclusive "Golden Ticket" prize draw, after purchasing Thomas Sanderson's bespoke conservatory blinds back in June 2009.
The news came as a delightful surprise to Mr & Mrs Welland when they received the telephone call confirming their windfall. They said, ''We were absolutely bold over with our win. The most we've ever won was a bottle of talcum powder in the local church tombola!!''
Mr and Mrs Welland first contacted the company back in June 2009 where their local Thomas Sanderson designer; Matthew Noel, visited the Wellands to present the full range as part of Thomas Sanderson's in-home design service. The couple bought tailor-made, electric pleated conservatory blinds for the roof of their conservatory. The warm champagne crush-coloured blinds transformed their extension. The couple were given an exclusive Golden Ticket once they had purchased and were entered into the company's monthly prize draw, but thought nothing more of the competition, and looked forward to the installation of their new blinds.
Their designer Matthew returned to the property again this week to present the Hammonds with their cheque for £3778!
For more information regarding Thomas Sanderson's bespoke range of conservatory blinds, window shutters, window blinds and a chance to be entered into their monthly Golden Ticket promotion, please call 0800 220603, or visit http://www.thomas-sanderson.com .
###