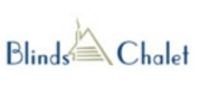 Phoenix, AZ (Vocus) September 1, 2009
In today's housing market Blinds Chalet urges consumers to remember that blinds really can sell a home. In addition to being an advantageous addition by sellers looking to set their home apart in the flooded market, Blinds Chalet urges home buyers to take into account the state of the blinds and other window coverings when looking for a good buy.
Window blinds and coverings are often just an afterthought for sellers when trying to set their home apart, but savvy sellers know that they make a definite impression on any buyer whether the buyer is aware of it or not.
Blinds Chalet's advice to sellers is:
1. Remember that blinds are a good investment; a knowledgeable buyer will see it as a bonus if there is no immediate need to replace, repair or revamp the window treatments in their new home.
2. Remember to keep it neutral. When attempting to improve a home's chances of selling there are no exceptions to this rule.
3. In a tough market, your goal is to set your home apart. Don't overlook the need for possibly a substantial investment to "spruce up" your home in order to get it sold.
Blinds Chalet's advice to buyers is:
1. Know that window coverings are a fantastic bonus for you as the buyers, but be aware that some sellers are aware of this fact. Don't be fooled be new blinds that look nice, but are actually low quality. Check the quality and consider what your initial investment will be if they need replacing.
2. If you come across a home that you'd like to consider purchasing that is in need of window coverings, don't be afraid to ask your agent to discuss adding window coverings or a window covering allowance to the contract prior to closing.
3. Be aware when considering older homes that safety regulations have changed in recent years. If the window coverings and blinds appear to be older, you can note in your negotiations that they will require replacement for safety reasons and ask for a deduction in price equal to the cost of replacing the unsafe blinds/window treatments.
For more information on Blinds Chalet or general blind and window treatment product information contact Ron Manwaring at info (at) blindschalet (dot) com or by phone at: 1-888-633-7840 or 480-633-7840. Or visit Blinds Chalet online at http://www.blindschalet.com.
# # #