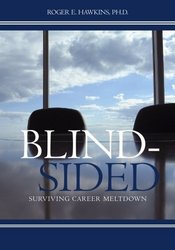 If you've ever been blindsided by a career meltdown, this book restores your vision with outstanding practical exercises that give you valuable tools for success in evaluating your skills, resume writing, networking and interviewing
Johns Island, SC (PRWEB) September 22, 2010
"Blindsided: Surviving Career Meltdown" by Roger E. Hawkins, Ph.D. offers methods designed to minimize destructive and non-productive behavior of unemployment and provides constructive exercises for those blindsided by a loss of employment.
Hawkins compares the aftermath of termination to the physical pain of those needing emergency medical treatment, stating that employees learning of unexpected unemployment must deal with consequences more damaging than just the loss of income.
"This book was written to walk people through intense career searches while psychologically holding their hands," Hawkins says. "Understanding and acceptance of the situation is critical, along with the realization that if readers do the work, satisfaction and anticipation for the future will be the reward."
The Bureau of Labor Statistics August 2010 unemployment numbers showed little improvement. Unemployment remained at 9.6%. More troubling, the broader U6 number, which includes those who have either taken part-time work or given up looking for employment, increased to 16.7%.
"If you've ever been blindsided by a career meltdown, this book restores your vision with outstanding practical exercises that give you valuable tools for success in evaluating your skills, resume writing, networking and interviewing," reviewed by Jon Kraushar, co-author of the bestseller, "You Are the Message," by Roger Ailes, president of Fox News Channel and chairman of the Fox Television Stations Group.
"Hawkins offers hope in the form of a campaign plan. Hawkins's clear message: A job search is a job. You should be spending 40 hours per week looking for work. Hawkins's networking advice is spot on, too. Networking is a function of research, referrals and remembered. Meetings of professional associations, the local newspaper and trade publications are great sources of information. Then you have to be able to figure out how your skills apply to that type of work," wrote Jim Pawlak, a reviewer of business books for The Dallas Morning News
C. E. Steel, a retired COO, believes timing is everything they say, "With so many people unemployed, 'Blind-Sided' by Roger E. Hawkins is a must read. Actually, it should be used as a constant guide while looking for a job or for those looking to make a career change. Blind-Sided is like having a management consultant in your hip pocket! The book is precise, easy to read and full of great information. I particularly like the 'Good Advice' segments."
Blindsided: Surviving Career Meltdown, is a "…remarkably succinct workbook that when placed in the hands of the freshly unemployed wastes no time in getting to the heart of the matter - specific directions on brushing up the resume, the interview skills, the negotiations and achieving the goal of finding an even better job than the one that seemed the end of the world as it melted out the door," Grady Harp stated in his Amazon.com review.
"Blindsided: Surviving Career Meltdown" is available for sale online at Amazon.com and through additional wholesale and retail channels worldwide.
About the Author
Roger E. Hawkins, Ph.D. is an industrial organizational psychologist with over 30 years of experience in executive development, career planning and organization and strategic planning. Hawkins assists CEOs, presidents and their staffs in the identification of talent, creating career and human resource systems and reorganization of the corporation. Hawkins received his doctorate from Illinois Institute of Technology in industrial organizational psychology. He has been chosen as a visiting and adjunct professor of undergraduate and graduate classes throughout his career.
###