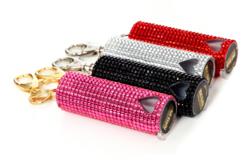 We love that men are just as excited about blingsting as women are, maybe even a little bit more because it now means they have a perfect yet practical gift idea she'll love.
New York, New York (PRWEB) February 22, 2013
blingsting, a new line of sparkly pepper spray purse charms, brings the positive and non-lethal personal defense product out from the obscurity of random hardware stores and gun shops, and on to the bags and backpacks of the women who need it.
The stats speak for themselves:

1 in every 4 women is sexually assaulted in college
80% of victims of sexual assault are under 30 years old
Increasing assaults on women for their iPhones are making headline news
Blingsting is a line of pepper spray that can be strictly classified as ''super-cute''. Pepper spray that clips onto the outside of a purse, backpack, or dog leash so that if and when she needs it, it's actually there. Pepper spray that is so girly, sparkly, and just plain adorable, she wouldn't want to leave home without it.
The mother-daughter team behind blingsting came up with the idea after continually throwing away the unattractive, outdated pepper spray key chains brought home by their husband/father in years past. "Girls love sparkles. It's evident by the clothes we wear, the cell phone cases we buy ... bling is everywhere. So, we thought why not create a line of pepper spray cases that women would be excited about taking with them," said creator Andrea Atteberry. "Our hope is that by carrying blingsting, women will feel more inclined to be proactive about their own personal safety and in choosing their surroundings. Pepper spray isn't always the answer, however, if blingsting makes one girl think twice before walking alone late at night, or jogging in a dim or unsafe area, then we are thrilled."
Pepper spray is a non-lethal, positive form of protection. The formulation used in each blingsting is legal for sale in all 50 states, although some states do enforce shipping restrictions.
Blingsting is priced to share. For just $25, it's a gift that's pretty and pretty practical. Order at http://www.blingsting.com.