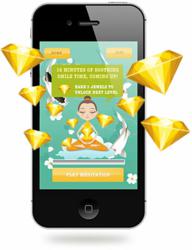 Blissify Me shot up to #3 in top paid and #1 in top grossing apps in the iPhone Health & Fitness category in Finland.
Helsinki (PRWEB UK) 31 October 2012
"We set out to make meditation fun, engaging, and convenient. Now we've received a positive response. Blissify Me shot up to #3 in top paid and #1 in top grossing apps in the iPhone Health & Fitness category in Finland. This happened in just three days," says Christian Bergstrom, Creative Director of Eternitas Publishing.
Blissify Me is now available in the UK iTunes App Store.
Blissify Me offers three levels of play that take you from relaxation to a soothing inner smile and powerful positive emotions. Three guided meditations help the player elicit a relaxation response and recall positive states of mind to relax both body & mind, calm down the nervous system, and cultivate strong positive emotions.
Blissify Me combines modern technology and ancient wisdom to bring a fun meditation experience to the player. Players earn virtual jewels for meditating and unlock lucky charms as rewards. When a player earns enough jewels she unlocks the next progressively more advanced meditation. This feature secures a smooth learning process and the players learn needed foundation techniques before continuing with more advanced meditations.
"People new to meditation have loved the game twist. By turning the learning process in to a game you get an addictive layer to the meditation experience. Meditation can be awesome," Christian comments.
Interest in mental fitness is growing fast as studies in the field of positive psychology bring us more good news. "Studies show that meditation itself has positive effects on a person's happiness and positive emotions, on stress, cognitive abilities and physical health. Studies in the field of positive psychology even suggest that happiness in turn engenders success across multiple life domains," Christian continues.
"It's a rare game that leaves the player in a better mood, relaxed and contributes to their health. We're on a mission to facilitate happy, harmonious and mentally fit people. Happiness is a choice and you can cultivate it with the right activities and decisions. Millions of people meditate daily for increased clarity, stress relief, heightened awareness, performance, and health benefits," concludes Christian.
###
Notes to editors
App available on the UK App Store here: http://bit.ly/PzM1PM
Website: http://www.blissify.me/
Logo & screenshots available here: http://www.blissify.me/gallery/
About Eternitas Publishing Ltd.
Eternitas Publishing is a creator of innovative educational apps, specializing in mental fitness and wellness content on mobile and tablet platforms. http://www.eternitas.co
Blissify Me – The Feel Good App is now available world wide for iPhone & iPod Touch. Chillax, Be Positive And Feel Good.
Media contact: Christian Bergstrom, Eternitas Publishing, +358400102882, firstname(at)eternitas(dot)co