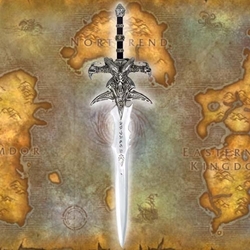 People are beginning to realize that these pieces are not only purchased for their ever-increasing intrinsic value, but for their aesthetic beauty as well
Conyers, GA (PRWEB) December 7, 2009
Atlanta Cutlery Corp. (ACC) & Museum Replicas Ltd. (MRL) announced today the debut of the companies' first wave of high-end collectibles based on Blizzard Entertainment's massively multiplayer online role-playing game (MMORPG), World of Warcraft®. The wave includes products based on the game's Horde and Alliance factions, along with a replica of the iconic Frostmourne®, the deadly runeblade featured first in Blizzard Entertainment's Warcraft® III: Reign of Chaos® and most recently in World of Warcraft: Wrath of the Lich King®. ACC & MRL are now taking orders for the collectibles throughout North America and Europe.
Museum Replicas will develop a range of prop collectibles and specialty products including high-end clothing and costumes, weapons, armor and other props, all inspired by the characters and themes from Blizzard Entertainment's popular MMORPG. The first items include life-size battle flags, wearable tabards and a full-size latex version of Frostmourne suitable for live-action role-playing.
Each collectible has been meticulously designed with input from the game's creators to ensure it accurately represents its in-game counterpart. As gaming audiences have become more sophisticated in their playing tastes, so have the collectors of these higher end collectibles. "People are beginning to realize that these pieces are not only purchased for their ever-increasing intrinsic value, but for their aesthetic beauty as well," says Robin Chaudhuri, Director of Licensing at MRL.
The first wave of ACC & MRL's World of Warcraft collectibles can be viewed and ordered online at http://www.museumreplicas.com or its sister site http://www.atlantacutlery.com and in person at the Museum Replicas store located at 2147 Gees Mill Road, Conyers, GA 30013 or at their exhibitor booths at San Diego Comic-Con & Atlanta DragonCon 2010.
About Blizzard Entertainment, Inc.
Best known for blockbuster hits including World of Warcraft® and the Warcraft®, StarCraft®, and Diablo® series, Blizzard Entertainment, Inc. (http://www.blizzard.com), a division of Activision Blizzard (NASDAQ: ATVI), is a premier developer and publisher of entertainment software renowned for creating some of the industry's most critically acclaimed games. Blizzard Entertainment's track record includes eleven #1-selling games and multiple Game of the Year awards. The company's online-gaming service, Battle.net®, is one of the largest in the world, with millions of active users.
About ACC/MRL
Atlanta Cutlery Corp., Museum Replicas Ltd. and their licensed products division, Windlass Studios along with their partner company, Windlass Steelcrafts are recognized as a worldwide leader in the design, manufacture and marketing of fine collectible products. With headquarters in Conyers, Georgia they sell their products in over 14 countries around the world. Licenses include Marvel Comics, The Terminator, Assassin's Creed I and II, Star Wars, The Tudors, Frank Miller's 300, Wheel of Time, The Phantom, Conan Hyborian Adventures, The Lord of the Rings, Harry Potter and the upcoming Ridley Scott motion picture, Robin Hood.
ACC/MRL Contact Information
770-922-7500
Nisha Windlass, Media Relations
Robin Chaudhuri, Licensing & Wholesale
# # #