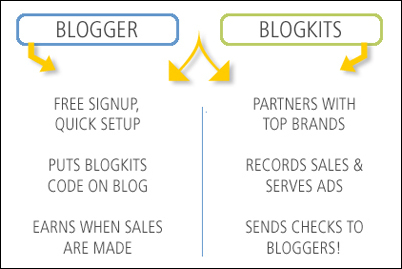 For 99 percent of millions of blogs, Google Adsense is probably a waste of time
Cleveland, OH (PRWEB) December 11, 2006
For millions of bloggers, partnering up with large brands such as eBay, GoDaddy.com & Travelocity doesn't seem possible. The recently launched BlogKits (http://www.blogkits.com), the only affiliate marketing network built for bloggers, has bridged the gap between large-named advertisers and bloggers, offering bloggers the ability to promote advertisements from major brands.
BlogKits is powered by the OfferForge network, which is owned by Forge Corporation Ltd. (http://www.forgecorporation.com), a global provider of performance marketing solutions, with offices in Johannesburg, Cleveland & Seattle.
Technorati is now tracking over 50 million blogs, which makes the blogosphere over 100 times bigger than it was 3-years ago. "In three to five years, bloggers will dominate as strategic advertising partners online," said Jim Kukral, Network Director & Founder of BlogKits. "Large brands such as Paypal, eBay & GoDaddy understand that as blogs continue to grow in numbers; their ability to become strong advertising partners will also grow. It's the long-tail theory."
"175,000 blogs are being created every day, producing about 1.6 million individual postings per day of original and unique content. There's no question that in the years to come this massive amount of content will dominate the Internet landscape. In time, bloggers will become more than just content producers; they'll become powerful online marketers."
"BlogKits's focus is to assist today's bloggers in learning how to be successful advertising partners by giving them access to easy-to-use tools and partnerships that can help them generate more income from their blogging efforts, without them having to learn how to be an expert marketer."
A list of BlogKits partners so far include:
eBay, PayPal, Travelocity, 1&1 Internet Hosting, Cooking.com, USAToday, Staples, Sony, Priceline.com, Hotels.com, Kodak, GoDaddy, Starbucks, Discover Card, Edmunds.com and many more
Is BlogKits Better Than Google Adsense For Blogs?
"For 99 percent of millions of blogs, Google Adsense is probably a waste of time," continued Kukral. "Our online Adsense calculator tool (http://www.blogkits.com/adsensetool.html) gives bloggers an idea of how much they might be earning with Adsense. If you have a low-traffic blog, Adsense doesn't earn you more than a few pennies per day. Is that worth it?"
About BlogKits
BlogKits is an affiliate marketing network built for bloggers. It's an alternative monetization method for millions (99% of all blogs) of low-traffic bloggers who aren't expert marketers. Now as part of the OfferForge network, owned by Forge Corporation, Ltd., BlogKits will allow bloggers and online merchants the ability to work together in a reliable and robust network platform.
About Forge Corporation Ltd.
Founded in 2003 by Jonathan Miller, well known affiliate marketing strategist, consultant and public speaker, Forge Corporation Ltd. (http://www.forgecorporation.com) is a global provider of performance marketing solutions that benefit both advertisers and publishers, with offices in Johannesburg, Cleveland & Seattle.
Forge enables advertisers to distribute online advertising through thousands of targeted websites, newsletters and other online publishers. These relationships are driven by two patented technology ad networks: OfferForge South Africa and OfferForge USA. OfferForge advertisers pay only for performance, which could be measured in sales, leads, visitors, impressions, subscribers or even new unique customers.
The ForgeConsult (http://www.forgebusiness.com) consulting division specializes in developing and executing affiliate marketing strategies to assist advertisers in reaching consumers more effectively such as affiliate recruitment and affiliate program management.
###