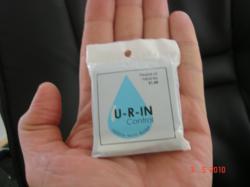 When there is no where to go, go where you are with Go Guy the pocket urinal.
Pawtucket, Rhode island (PRWEB) June 21, 2011
Go Guy is the next greatest product since the condom. Condoms at one time were in the back of the pharmacy department hidden in the corner because people were embarrassed to let people know what they were planning or that they were even using the product. Since the 80's they have now become socially accepted and are seen at the checkout counter with now over 50 different brands and styles to choose from in many locations. Condoms are now used in everyday conversation for helping with safe sex.
Go-Guy is in the same position that the condom was in the 60's. Men are embarrassed about sharing if they have had a urinating accident. Men don't even openly discuss what is so commonly seen - some guy standing on the side of the road with his back to traffic in a desperate effort to relieve himself, peeing right there in public. Or how about all the bottles lying by the side of the road filled with a strange unknown yellow liquid? For years men have harbored a deep secret: they'll pee in just about anything when they're stuck with nowhere to go. Men grab cups, pee in bottles or just hop out and pee on the road when an emergency arises.
Here are a few testimonials from men of all ages that illustrate the incredible need for Go-Guy:
"This winter at a ski resort I felt the urge to pee but decided to go down the hill for the last time before heading to the toilet. Unfortunately it proved to be a very bad decision since the lift got stuck for over 30 minutes and the cold weather made me soon have to pee really really bad. I didn't make it to the bathroom and totally peed myself. It was pretty embarrassing but my cousin who was with me could not stop laughing. Needless to say that ended skiing for the day and I had to go back to the cabin soaked with pee." Emzi
"I was a senior when this happened. I was walking to the bus stop with lots of friends. I had been needing to pee for 3 hours and by this time I became desperate and started laughing. So much that I dribbled down my leg and out my pants cuff which other people saw and it spread around school like a wild fire." Josh
"I was 22 years old and had to pee really badly, so I peed in someone's yard and two cops found me and gave me a ticket. I was thinking of running at first but wow fifty dollars for peeing!" Kevin S
"One day, we had a math test. I had to pee really badly. We weren't allowed to go during the test. It had settled down for a while. Ten minutes after that, the urge came back, stronger this time. I was slanting my legs sideways, holding my crotch, and biting my pencil. I could not concentrate on my test. I told my teacher that I had to go really badly. She did not care. Finally I just lost it. Pee squirted out all over. I had many nicknames for years and they still make fun of me today." Jason
These are just a few embarrassing moments from males who did not have GO-Guy to rely on to solve their urinating issues. GO-Guy is so small it can fit in your pocket, wallet, or glove compartment. The solution is a small, compact, watertight leak resistant bag that is filled with polymer crystals that gelatinize the urine upon contact. Each U-R-IN Control GO-Guy bag comes in discrete black so no one knows what's inside. They also come with a wet wipe for sanitary clean up. It is ready for that one time when there is nowhere to go, you can go where you are with Go-Guy, the pocket urinal.
FEMA, Military, fire and police departments, teachers for emergency lockdown use, first aid kits, AAA travel kits, small engine pilots, truck drivers are all joining the need for urine bags in emergency situations. Go-Guy is the answer to all their needs. So as the motto says, "When there is nowhere to go, go where you are with Go-Guy, the pocket urinal."
Thanks, Go-Guy for solving our embarrassing moments.
###