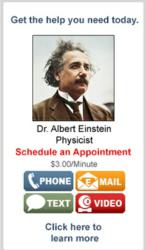 ExpertDirect(TM) offers a new way for coaches, consultants, and counselors to connect with clients and get new referrals.
Norwalk, CT (PRWEB) February 20, 2013
In the Fall of 2011, child psychologist Lawrence E. Shapiro, Ph.D. was looking for software he could use to help bring live coaching to a website for parents of children with Autism. He looked at popular sites like JustAnswer.com and Liveperson.com, but neither company would license him their software. Frustrated, Shapiro decided to build the software himself, hiring the Allen Group, a website and app development group based in Norwalk, CT. Now, his new company Talk To An Expert, Inc. has created a number of products to connect experts with potential clients, including ExpertDirect™; a software widget (with just a few lines of HTML code) that anyone can easily copy and paste right into their blog or website.
Shapiro explains "There are tens of thousands of people who have informational blogs and websites, and many of them provide consulting, counseling, or coaching services. But until now, communicating with clients was only being done offline. I wanted to create software that anyone could use and that would make getting help from an expert just a few clicks away." Shapiro also notes that the ExpertDirect widget is a great way for people to monetize their blogs or websites, a goal of thousands of entrepreneurial experts.
With Talk To An Expert, Inc.'s software, you can make an appointment to talk to an expert, or see if they are online to communicate by phone, text, email, or video chat. The software allows experts to set their own per/minute fee. Clients set the time they want to talk, enter a credit card, and connect.
Shapiro is no stranger to inventing practical tools for helping professionals. In 1986 he founded Childswork/Childsplay, a company that creates therapeutic cards and board games. In 2002 he founded a publishing company called Instant Help books (now part of New harbinger Publications) that produces self-help books for kids and teens. More recently he has designed mental health apps, like Operation Reach Out, and app designed to prevent suicides among military personnel.
ExpertDirect™ is available through the company's website, TalkToAnExpertInc.com. Shapiro's "widget" can be viewed on the company blog, http://www.TalkToAnExpertInc.blogspot.com. A new product, TherapistDirct™, will be launched in early March, and will be built specifically for psychotherapists who want to do online therapy.