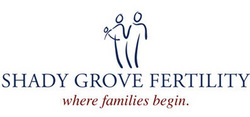 Rockville, MD (PRWEB) November 19, 2010
Shady Grove Fertility has launched a new blog entitled, "The Insider's Guide to Fertility," featuring commentary from doctors, nurses and staff, as well as medical updates and patient perspectives. The new site, http://shadygrovefertility.wordpress.com, is designed to offer online support and information for a growing number of patients who are turning to the Internet for online support during their treatment.
"Many of our patients are very active online," says Director of Psychological Support Services Sharon Covington, MSW-LCSW-C. "It's anonymous, it's faceless, and they can get the support or answers they need without the fear of running into someone in the waiting room."
Shady Grove Fertility has more than 6,000 followers on its Facebook page, one of the largest followings in the fertility world. In a recent posting, a patient said, "I found out today that my IVF was not successful but I am already looking at trying again." Within a short time there were more than half a dozen empathetic responses including one from a patient who is now pregnant after her second attempt.
Susan Keenan of Alexandria, VA, turned to the Internet at the very beginning of her journey to parenthood. "I was considering trying to get pregnant, and didn't want to broadcast that to all of my friends," she remembers. "It was nice to be anonymous."
When it became clear that pregnancy would not come easily or naturally, she found infertility was a lonely experience. "A lot of times, family and friends can't relate. I didn't have a lot of friends who'd gone through this, and it is so nice to connect with women who are all in your shoes."
Not only did Susan connect with other women online, but she's met several dozen of them in real life. Since her journey began almost five years ago, some of them are now long-term friends with children who play together while Susan seeks treatment for a second child.
Susan and other Shady Grove Fertility patients mirror what's happening to social media users across the country. Earlier this year, Facebook passed the 400-million user mark, and Nielson Media Research published statistics showing 22% of all time online now goes to social networks and blog sites. The average visitor now spends almost six hours a month on these sites, 66% more time than they did just a year ago. Katherine Klegin says she's closer to six hours a day, much of it spent working on her blog, http://ahokieandacav.blogspot.com.
In a September posting, she wrote about how good her life is, and then got to what she was really thinking. "But I'm still not pregnant. And I feel like it's not going to happen this month either. " A month and a day later, she posted a picture of a positive pregnancy test, and wrote, "Yes. I'm in shock!"
"Blogging definitely helps get my feelings out there," she says. "A lot of people think this is personal and they don't want to talk about it, but not me. It IS personal, and the blog is a personal journal, and for me, it really helps to get my feelings out."
Over the Internet, Katherine discovered the kind of instant connection that comes from having a common bond, something even well-meaning family and friends can't offer. "You have to explain all of the medical stuff, and people try to be supportive but it's hard to really understand if you haven't been there yourself. Online, there was a whole community of people who had gone through everything I was going through."
Sharon Covington points out that patients can set boundaries and limits to online interaction, choosing to interact if and when they want to. She recommends patients use online communities and message boards as one of several sources of emotional support, but not necessarily for medical information. She also points to one more possible benefit: Having a solid system of support can help counteract depression, which could actually improve your chances of success.
About Shady Grove Fertility Center
Shady Grove Fertility Center is the largest and one of the most successful fertility and IVF Centers in the United States, and has a strong reputation among patient and physician communities for ethical, sound and successful medical care. Shady Grove Fertility has pioneered a number of nationally and internationally recognized programs, such as Shared Risk 100% Refund Program, Shared Donor Egg, International Donor Egg, and Shared Help among others. Twenty-three reproductive endocrinologists, as well as PhD scientists, geneticist, and 350 highly specialized staff care for patients in 12 full-service offices throughout the Washington and Baltimore metropolitan areas. Shady Grove Fertility has extensive experience and success in all aspects of fertility and reproductive medicine, now including egg vitrification and storage. Shady Grove Fertility conducts clinical research in collaboration with the National Institutes of Health and is part of their subspecialty training Fellowship in Reproductive Endocrinology. Since Shady Grove Fertility's inception in 1992, more than 15,000 IVF babies have born to its patients. Shady Grove Fertility physicians have been featured as experts for comment on media outlets such as NBC's The Today Show, The New York Times, The Washington Post, CNN Headline News, Women's Health Magazine, NPR's Diane Rehm Show (WAMU-FM 88.5, Washington, DC), and Parents Magazine. Visit http://www.ShadyGroveFertility.com.
# # #