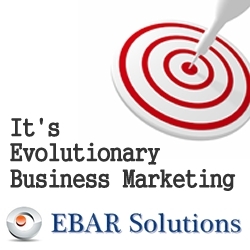 through blog customization a business owner can have more of a hand on approach to their business.
Phoenix, AZ (PRWEB) June 14, 2010
EBAR Solutions CEO Dustin Twyman has heard it all: stories of small business owners sinking deeper and deeper into debt -- to the tune of thousands and sometimes tens of thousands of dollars -- and all to pay the fees of full-service marketing firms that promise the world but often deliver only minimal results. And, frankly, he's tired of seeing the little guy taken advantage of. Twyman explains that " through blog customization a business owner can have more of a hand on approach to their business."
Twyman, who has had ample experience dealing with the big marketing guns, has this to say about the situation he's working hard to correct: "At EBAR Solutions (blog customization), our goal is to put the power back into the customer's hands and take it away from the predatory Internet marketing companies."
Having been an insider in the traditional marketing machine, Twyman knows exactly what's involved in providing marketing services to clients, and it irks him that, as he puts it, "all too often people are charged thousands for services that take little or no time to complete." He believes he has a better way -- one that's more equitable and one that will change the way marketing is done in the 21st Century.
Twyman explains, "There are so many tools that people can be using on their own and saving themselves a lot of money in the long run. The problem is that no one wants to tell them about them. We are hoping to change that."
Twyman's approach is simple: He points businesses to the marketing tools they need through his proprietary EBAR toolbar, giving them access to all the same resources the major marketing firms use -- but without the middleman and without the markup. He teaches clients how to use the toolbar and how to make the most of the available marketing resources. Then, when they are ready to take their businesses to the next level, Twyman provides direct access to the companies the major marketing firms outsource their own clients' work to. His ultimate goal is to put small business owners in charge of their own success.
Twyman also has plans to unveil a new "Customer's Corner," which will allow clients to spotlight their products and services in articles that will be posted to the upcoming EBAR Solutions Blog (blog.ebarsolutions.com). He explains, "Blogs and social media are so important for businesses today. Without social communication a business will have a tough time competing in this information-driven world." His company also offers blog customization services to help businesses create a powerful online presence through a high quality business blog.
Twyman is determined to do his part to help transform marketing by providing a more cost-effective alternative to traditional marketing services. He sees such a change as a positive step for today's businesses. As he studies the marketing trends that are currently evolving, his response is optimistic: "We feel this is a great time for that change."
###