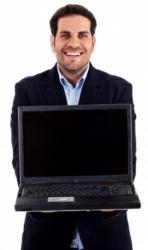 Part of a blogger's lifestyle is finding new content to publish online.
San Francisco, California (PRWEB) December 12, 2012
Blogging has become one way that businesses and individual people can communicate with the world. For some bloggers, monetizing these efforts has been possible through product or affiliate partnerships. Top blogger, John Chow, has setup a new blogger training course and is enrolling bloggers online. This new training teaches how to get started blogging for business or personal use online. This course can be accessed entirely online from any Internet connected device.
"This course teaches someone how to get started with a blog in a few short clicks," said John Chow on his website.
The concept of blogging has derived from the 1998 use of the word web log and has now turned into a lifestyle for some doing it full time. Company use of blogs is one way that new products and services can be announced to the world with no additional marketing.
One of the benefits of creating a company or individual blog is the free set of tools that are now available. Platforms like WordPress and Joomla provide open source software that is developed by software engineering experts.
There is currently no cost to use these platforms and this is helping more people to get started without investing into the design or development process usually required with a traditional website.
Part of the information that is now included in the fast start how to blog course is how to find information to distribute online. The digital age has placed more emphasis on accessing content faster and easier than any other time in history. Part of a blogger's lifestyle is finding new content to publish online.
The new course information supplies details how to obtain and generate content to keep blogs updated constantly with a fresh source of information.
A popular way that some online have used to expand the reach of a blog is by outsourcing the daily content to other writers. This method of virtual outsourcing was developed to allow a blogger to concentrate on controlling marketing without spending time updating a blog by hand. The way to research and hire an outsourcer is covered inside of John's new training.
The new blogging training course offered online is one of the first of its kind to teach a range of subjects inside of one course. The development of the training and the content inside was developed by John Chow and is the very strategies that he uses on a daily basis to control his own network of websites online.
About John Chow
John Chow turned his own blog into one of the largest online in the last two years. His self-taught method of traffic generation and marketing has helped him achieve marketing success around the world. The brand new courses and training and are offered to men and women online come directly from the trial and error of John Chow. Through a network of blogs and other marketing programs, a broader market reach is earned that allows this marketer to develop new business and affiliate partnerships around the world.