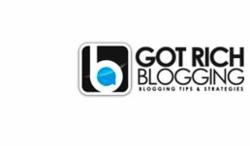 Research is inspirational.
FORT LEE, New Jersey, (PRWEB) January 08, 2013
Marble Media LLC's GotRichBlogging.com brings new and experienced bloggers into the new year with an expertly crafted list of tips for overcoming writer's block and finding writing inspiration in places that are often overlooked.
According to GotRichBlogging.com, even full time bloggers have no excuse for lacking blog ideas. Whether writing blogs focused on a specific area of expertise, or multiple blogs on multiple topics, the vast resources of the Internet and the multi-faceted physical world at large should provide any blogger with plenty to talk about.
Full-time bloggers who ghost-write blogs for private companies or individuals should never be at a loss for material. The client's social networking pages and website can act as a springboard for gathering topical blog ideas. By taking those ideas to a Google search and adding 30 minutes of online research on a product, service or niche, the focused blogger can begin writing on almost any topic organically.
Research itself can be inspirational.
The in-house experts at GotRichBlogging.com have compiled a list of tips for finding blog writing inspiration no matter how stubborn the case of writer's block:
1._Blog Comments – Some of the best inspiration for new blogs can come from readers' comments left on previously posted blogs. Blogs serve to deliver information, answer questions and offer new insight. Bloggers should respond to a comment or question with a new blog that expands on the reader's question or thoughts.
Blogs based on reader feedback capture audiences that may have been waiting to see more information on a topic. They also give an audience the idea that the expert behind the blogs is focusing on their questions and needs.
2._E-mails – E-mails can be a great source of blog inspiration, but the authors at GotRichBlogging.com advise caution when turning to Email for blogging ideas. Spammy Emails, when used as inspiration, can deliver a limited dose of inspiration. At the very least, bloggers can find some excellent examples of what to avoid when developing a successful blog.
3_ Many bloggers turn to photos and even quotes from famous (and not-so-famous) writers for inspiration. Although this approach may seem obvious, many people ignore the potential for inspiration that can be found in another writer's words. With practice, inspiration becomes easier to find in the genius of others.
4_ Check out Competitors' Blogs – Bloggers should always be aware of what their niche competition is publishing, and learn to decipher what topics are most relevant to any one blog audience. Other bloggers are certain to provide a heads up on a new trend or product that may deserve further investigation. Successful bloggers always have their target audience in mind when seeking blog content. As expertise on a particular subject increases, so too will blog content ideas.
5._Creative Opportunities – The most successful bloggers draw on experience learned in the course of everyday living. GetRichBlogging.com experts advise to take advantage by paying attention to language trends, family events, funny things pets do, gourmet meals (as well as ordinary hot dogs from the Home Depot parking lot vendor). Blogs are meant to give an everyman's voice to an informative read. If readers can relate to the blogger's written experiences, they will keep reading.
For more inspiration on finding inspiration for blog writing, visit the GotRichBlogging.com website or Email info(at)GetRichBlogging(dot)com.
About Marble Media LLC:
Marble Media LLC is a creator of high-quality, content-rich blog sites that provide expansive coverage of relevant information to readers who make up a wide range of demographics. The Marble Media LLC team of expert writers covers a wide range of specialties including travel, food, health, fitness, social media, marriage, parenting, technology, weight loss, fashion and much more.
For more information on Marble Media LLC's offerings and advertising opportunities, visit the MarbleMediaLLC.com website, or Email sales(at)marblemedia(dot)com.
###