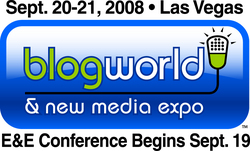 Las Vegas, NV (PRWEB) August 13, 2008
Richard Jalichandra, President and CEO of Technorati, will be a keynote speaker at BlogWorld & New Media Expo, the first and only conference dedicated to the business of blogging and new media.
Show attendees can hear from one of today's most influential voices on the Internet and learn how the socialization of blogging is shifting the paradigm of traditional media and business communication - creating an entirely new channel for people and stake holders to communicate, interact, and build relationships with one another.
Jalichandra, who took over the reins at Technorati in 2007, is a veteran Internet executive whose media experience includes leadership roles across the media spectrum - as a client, at an agency, as a publisher, and with an advertising network.
In his address, Jalichandra will present findings from Technorati's 2008 State of the Blogosphere report, the definitive and most cited source on the pulse of the new media industry. This recent report provides comprehensive qualitative and quantitative analysis, offering deep insight on the growth, statistics, and market trends at play in this fast growing market.
Jalichandra will explore bloggers and the state of blogging today, including a look at who they are, where they are, and why they blog. Additionally, he will discuss key market drivers, such as audience demographics and motivations, a break down of industry growth based on genre and geography, and business opportunities for bloggers.
BlogWorld Expo will be held at the Las Vegas Convention Center, Sept. 20-21, 2008, with an exclusive pre-show Executive and Entrepreneur Conference taking place on Sept. 19. E&E Conference sessions will focus on corporate blogging and the use of new media in business environments - including special appearances by well-known corporate bloggers.
Additional information on BlogWorld & New Media Expo, including speaker topics, session descriptions and registration details, is available at http://www.blogworldexpo.com.
About BlogWorld & New Media Expo:
BlogWorld & New Media Expo is the first and only industry-wide tradeshow, conference and media event dedicated to promoting the dynamic industry of blogging and new media. BlogWorld features dozens of seminars, panel discussions and keynotes from iconic personalities on the leading-edge of online technology and Internet-savvy business. Designed to give participants the strategies, tools and technologies they need to stake their claim in the blogosphere, BlogWorld takes place at the Las Vegas Convention Center, Sept. 20-21. More information on BlogWorld & New Media Expo can be found at http://www.blogworldexpo.com.
About Technorati Media:
Technorati collects, organizes, highlights and distributes the online global conversation; and surfaces this content to millions of consumers. Founded as the first blog search engine, Technorati has become the definitive source for the top and emerging stories, photos and videos across news, entertainment, technology, lifestyle, sports, business and politics: introducing millions of readers to blog and social media content. Technorati's network matches bloggers and social media creators with marketers who want to join the conversation. http://www.technorati.com.
###