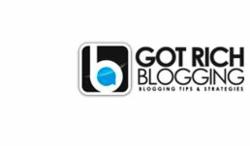 Get the reader thinking visually.
Fort Lee, NJ (PRWEB) January 22, 2013
Whether it's worth 1,000 words or simply some great added SEO, incorporating a picture or two into a blog is a strategy that more and more bloggers are finding beneficial when it comes to inspiring interest. In its newest blog titled "Integrating Photos into Your Blogs," GotRichBlogging.com looks at choosing appropriate photos to enhance a blog, and how to avoid images that turn readers off.
According to GotRichBlogging.com, adding photos to any blog can be a boost to online visibility, provided the photos used are relevant and appropriate, and that they are search engine optimized to add value. For bloggers focusing on a business-related blog, photos can be shots of products or they can be images that express a feeling. For instance, a company that sells soundproofing material may include pictures of people enjoying quiet space in their home, rather than stock photos of sheets of black soundproofing material that add nothing to a blog on quiet indoor spaces.
Of course, for those working on personal or interest-related blogs, there's more flexibility when it comes to incorporating images, although the rule of thumb is still to keep the images relevant to the content.
According to GotRichBlogging.com, photos added to a blog should enhance the blog in at least one of the following ways:
1. Get the reader thinking visually. For people who blog about dogs or hot air balloons, the photo options may be endless. For those who blog about a business, photos related to products or services that the business offers can add to the reader's experience. Bloggers are advised to take advantage of unusual shots that may help clarify a point being made in the blog.
2. Share images that no one else has seen. Travel bloggers witness unusual people, customs, and scenery all the time, and sharing photos of the experiences are de rigeur for travel blogging. Bloggers who are writing about a place they have not yet visited can find images of Flicker or other free photo sharing sites to add to their blog post.
3. Use photos to elicit an emotional response. Images can draw readers to a blog who might otherwise have passed it up. Some blogs need the boost that photos provide, since otherwise their content may not seem compelling to a general readership. Bloggers writing about party supplies, for instance, can add a few colorful photos of simple plastic cups and cutlery, and attract an audience.
Including images with blog content is an valuable habit for bloggers to embrace. For inspiration, GotRichBlogging.com advises readers to see how other blogs use photographs to enhance visibility.
For more on enhancing a blog with photography, visit the GotRichBlogging.com website or Email info (at) GetRichBlogging (dot) com.
About Marble Media LLC:
Marble Media LLC is a creator of high-quality, content-rich blog sites that provide expansive coverage of relevant information to readers who make up a wide range of demographics. The Marble Media LLC team of expert writers covers a wide range of specialties including travel, food, health, fitness, social media, marriage, parenting, technology, weight loss, fashion and much more.
For more information on Marble Media LLC's offerings and advertising opportunities, visit the MarbleMediaLLC.com website, or Email sales (at) marblemedia (dot) com.
###