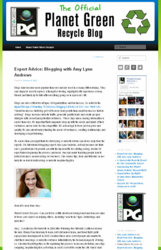 Blogging is not a "build it and they will come" endeavor. Building a blog is hard work and time consuming.
Chatsworth, CA (PRWEB) October 16, 2012
Planet Green sought out the self-taught blogging expert Amy Lynn Andrews for an interview to feature on The Official Planet Green Recycle Blog series called Expert Advice. The new series has been developed to support their participating organizations by providing tools and tips to promote their program.
Amy created her first website in 2004 with no prior technical knowledge or training, all she had were free tutorials on the web. Amy decided to create a site explaining the process of creating a blog/website in an easy-to-follow, one-stop shop sort of way. Basically, she created a resource she wished she had.
Amy's website describes the benefits of creating a blog for business and organizations alike. She writes about the exposure a blog can bring to a company, the benefits of having relevant information versus a static website and not to mention the advantages updated information can provide for search engine optimization. Amy also informs how helpful a blog can be to non-profit organizations in the form of building trust.
Planet Green's interview with Andrews covers her background, benefits of starting a blog for charitable organizations and the hurdles to expect. One of the hurdles Amy mentions is the misconception of the speed of the process. Andrew's explains, "Blogging is not a "build it and they will come" endeavor. Building a blog is hard work and time consuming." She also highlights the hurdle of finding the right balance between personal and professional posts. The interview also covers her top picks for tools to manage and harness the power of social media such as HootSuite, Woodbox and plugins like Social Sharing Toolkit.
To check out the interview, Expert Advice: Blogging with Amy Lynn Andrews, click here.
For more information about Amy Lynn Andrews, visit:http://www.amylynnandrews.com.
###
About: Planet Green is the global leader of quality re-manufactured inkjet cartridges and e-waste recycle fundraising programs. Since its inception in 2,000, quality has been and continues to be the focal point of Planet Green's operation. The e-waste recycle fundraising program has helped thousands of charitable organizations raise over $40,000,000 and has kept tons of e-waste out of landfills. Planet Green Recycle also now offers a free e-waste recycling service for general public and businesses for those that do not belong to a charitable organization but still want to take part in responsible e-waste recycling.