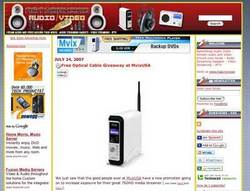 Networking the audio and video in your home doesn't have to be difficult, but you do have to find the right products
Arlington, MA (PRWEB) July 27, 2007
BlogPire Productions is pleased to announce the addition of Networking Audio Video to its growing list of consumer-oriented weblogs. BlogPire Productions started NetworkingAudioVideo.com to help homeowners, music lovers, and movie viewers find a way to understand the products that can fulfill their home entertainment needs.
"Networking the audio and video in your home doesn't have to be difficult, but you do have to find the right products," says David Ficociello Editor of Networking Audio Video. "We find products like the Mvix mx-760hd that allow you to listen to music and stream movies on your TV."
If entertainment is at the center of your digital life, you want to be able to play movies, TV shows, movie trailers, podcasts, photos, and YouTube videos from multiple devices in your house. But making sense of Windows Media Streaming, TiVo, movie streaming, Apple TV, Slingbox, audio video computer downloads, audio streaming, home networking, and IPTV is not as simple as it should be.
"Hours of frustration can be avoided by visiting NetworkingAudioVideo.com," Ficociello adds. "Bottom line, you'll know what products work with your TV and how to get great content or music there."
About Networkingaudiovideo.com:
NetworkingAudioVideo.com is a blog that features products, step by step guides, reviews, and other news that allow you to learn how to stream audio and video around your house. The editorial staff has a wide range of experience trying to listen or view TV, movies, and music in every corner of their house. Reviews include: Apple TV, Soundbridge from Roku, MX-670HD from MVIX, Netgear eva7000, Sonos, Airport Express from Apple, Tivo, Ziova and other audio and video streaming devices. They even know how to get your Airport Express working great with iTunes and your iPod. So if you even just want to get the latest movies on your iPhone or listen to music in your kitchen streamed from your Apple Macbook, the staff at NetworkingAudioVideo.com will review the latest audio video streaming products and let you know what you should buy.
About Blogpire Productions:
Blogpire Productions is a set of blogs bringing an influential audience to brand advertisers focused on product and category niches. Founded in 2004, Blogpire Productions continues to expand each month and build new and interesting web log titles for readers around the world. Many Blogpire Productions weblogs have received Yahoo! Pick of the day along with being featured in USA Today, the Wall Street Journal, The Boston Globe, FHM Magazine, and other magazines and Web site features.
Other Blogpire Productions weblogs include: SingleServeCoffee.com; KitchenContraptions.com; JustTheChips.com; TVSnob.com; ShavingStuff.com; FastFoodFever.com; GPSLodge.com; ShirtSnob.com; TheCookingNews.com; LiquorSnob.com; ReallyNatural.com; CheapFunWines.com; CriticalGamers.com; SingleServeEspresso.com; SuperCoolPets.com; ToolSnob.com; SuperCoolBaby.com; CasinoSnob.com.
###