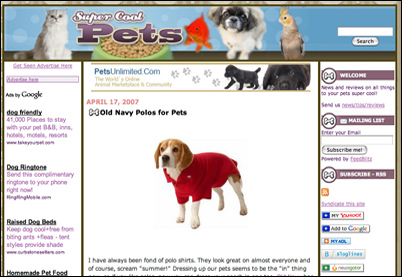 People form strong bonds with their pets. They provide love and companionship for us all--singles, couples, children and empty nesters.
Arlington, MA (PRWEB) April 30, 2007
More than 60% of American households own a pet, and 45% have more than one. In 2006 over $38 billion was spent on our pets in the United States.
"Our pets have become cherished members of the family," says Ricki Widlak, editor of Super Cool Pets "People form strong bonds with their pets. They provide love and companionship for us all--singles, couples, children and empty nesters." It is no wonder companies are marketing the latest and greatest products for pets. With so many products and so much information out there, it is very time-consuming for pet owners to wade through all the merchandise available to determine what products they want and what are best for their pets.
Blogpire Productions is pleased to announce the addition of Super Cool Pets to its growing list of weblog titles. Blogpire Productions started SuperCoolPets.com to help other pet owners find the pet products they really need, to help them stay away from the products that they don't, and to point out cool stuff along the way. "When I brought home my Golden Retriever puppies three years ago, I was surprised at how the pet industry had grown since I had last owned dogs and cats in the 90's" says Ricki Widlak, editor of SuperCoolPets.com. "There were so many products I wish I had known about sooner, which would have greatly helped us as we integrated our new puppies into our family. With Super Cool Pets, I would like to share all my new findings about pet products and merchandise with others all in one place."
About SuperCoolPets.com:
As a lifetime animal lover and pet-owner, Ricki, editor of Super Cool Pets has quickly become well versed in all the pet products available on the Web. She is intent on finding the most fun and innovative pet products on the market. Searching for the best pet bedding, food, accessories, toys, and health aides doesn't have to be a chore; it can be a blast.
About the writer of SuperCoolPets.com:
Ricki Widlak has shared her life with many pets. She writes from the viewpoint of a pet owner with the heart of a pet lover. She lives in Florida with her husband John; their twin Golden Retriever girls, Jessie and Molly; and three cockatiels, Java, Maui and Tiki; and still misses the late Frank the cat. Ricki also has three grand-kitties -- Fat Tony, Ariel, and Ziggy. She is always on the lookout for items to keep pets safe, happy and healthy, whether at home, outdoors, or on the road.
About Blogpire Productions:
Blogpire Productions is a set of blogs bringing an influential audience to brand advertisers focused on product and category niches. Founded in 2004, Blogpire Productions continues to expand each month and build new and interesting web log titles for readers around the world. Many Blogpire Productions weblogs have received Yahoo! Pick of the day along with being featured in USA Today, the Wall Street Journal, The Boston Globe, FHM Magazine, and other magazines and Web site features.
Please visit Blogpire Productions for a complete list of weblog titles.
Other Blogpire weblogs include: SingleServeCoffee.com; KitchenContraptions.com; JustTheChips.com; TVSnob.com; ShavingStuff.com; FastFoodFever.com; GPSLodge.com; ShirtSnob.com; TheCookingNews.com; LiquorSnob.com; ReallyNatural.com; CheapFunWines.com; CriticalGamers.com; SingleServeEspresso.com.
A Full list of titles is available at BlogPire Productions
###