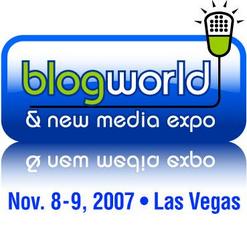 The {Kite Runner} story is populated by characters who live in a distant and, to many in the west, enigmatic country. It is often dark and brutal
Las Vegas (PRWEB) November 2, 2007
On Wednesday, November 7, following the Executive and Entrepreneur Conference, the BlogWorld & New Media Expo will host a private preview of The Kite Runner, the film adaptation of author Khaled Hosseini's acclaimed best-seller, for all registered show attendees and register show press. Immediately following this exclusive screening, The Kite Runner's lead actor, Khalid Abdalla (United 93), will conduct a Q&A with film critic and nationally syndicated radio personality Michael Medved. Michael considers The Kite Runner "one of the year's best films. Beautifully crafted, wildly ambitious and altogether unforgettable."
"The story is populated by characters who live in a distant and, to many in the west, enigmatic country. It is often dark and brutal," writes author Khaled Hosseini at the movie's blog. "This book has connected now with millions of people around the world. To me, that is a testament to the power of the word-of-mouth phenomenon."
This highly anticipated film is not scheduled for release until December 14, but blogging conference-goers don't have to wait! The Kite Runner preview will begin at 9:00 p.m. (PT) at the United Artist Showcase 8 Theatre in Las Vegas. Register now to be part of this exclusive event!
Additional information on BlogWorld Expo, keynotes, speaker topics, session descriptions, the Weblog Awards, The Kite Runner preview and registration is all available at http://www.blogworldexpo.com.
About The Kite Runner
Release: December 14 (wide)
Rating: PG-13
Running Time: 127 minutes
Synopsis: Based on one of the most acclaimed novels in recent memory, The Kite Runner is a profoundly emotional tale of friendship, family, devastating mistakes and redeeming love. In a divided country on the verge of war, two childhood friends, Amir and Hassan, are about to be torn apart forever. It's a glorious afternoon in Kabul and the skies are bursting with the exhilarating joy of a kite-fighting tournament. But in the aftermath of the day's victory, one boy's fearful act of betrayal will mark their lives forever and set in motion an epic quest for redemption. Now, after 20 years of living in America, Amir returns to a perilous Afghanistan under the Taliban's iron-fisted rule to face the secrets that sill haunt him and take one last daring chance to set things right.
Presented by: DreamWorks Pictures, Sidney Kimmel Entertainment and Participant Productions, a Sidney Kimmel Entertainment Production and Parkes/MacDonald Production released by Paramount Classics.
Director: Marc Forster (Stranger than Fiction, Finding Neverland, Monster's Ball)
Screenplay: David Benioff (Troy, 25th Hour, The Life Aquatic with Steve Zissou-co-writer)
Author: Khaled Hosseini
Press Contacts:
BlogWorld Expo
Kelly Taylor
The Bohle Company
blogworldpr@bohle.com
(310) 785-0515, Ext. 207
The Kite Runner
Charlie Nelson
Grace Hill Media
cnelson@gracehillmedia.com
(818) 762-0000
# # #