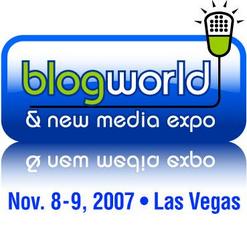 Las Vegas (PRWEB) October 30, 2007
Mark Cuban, owner of the Dallas Mavericks, billionaire entrepreneur, founder of HD.net, recent contestant on ABC's Dancing with the Stars, and author of the popular Blog Maverick blog, will headline a star-studded cast of speakers at the first-ever BlogWorld and New Media Expo, Wednesday - Friday, Nov. 7 -9, at the Las Vegas Convention Center.
Cuban's involvement will be a must-see for all Blogworld attendees as he shares his experience as one of the most prolific and widely read commentators in the blogosphere.
Joining Cuban at the show will be a number of well-known, industry experts addressing important issues for the new media participants. Scheduled to begin the festivities Wednesday, Nov. 7 at the Executive & Entrepreneur Conference is Larry "The Connector" Benet, founder and Chief Idea Officer of Outside the Box Consulting and Outside the Box Promotions, a successful and innovative sales, marketing and promotions consulting firm. Benet has been referred to as "America's Connection Expert."
And that's just the beginning! The second day of the show will open with a keynote by Matt Mullenweg, founding developer of WordPress. Finishing out the night, Jason Shellen of Blogger and Google reader fame will moderate the closing roundtable featuring Technorati CEO Richard Jalichandra; b5 Media Founder and CEO Jeremy Wright; and Pajamas Media's founder and CEO Roger L. Simon.
Friday's Nov. 9 keynote agenda will spotlight Leo Laporte, host of TWiT.TV (This Week in Tech) and national radio technology talk shows on Premiere Radio Networks including XM Channel 152 and The Lab With Leo. Laporte's credits also include regular spots on television and radio programs including Live with Regis and Kelly and hosting and producing some of the most popular podcasts in the world including The Daily Giz Wiz, Windows Weekly and MacBreak Weekly.
In addition to the star studded keynote line-up, BlogWorld will host the world's largest blogging conference, featuring more than 60 sessions and over 100 speakers covering the topics of blogging, podcasting, video blogging, internet radio and TV broadcasting and other types of social media activities for new and experienced content creators, entrepreneurs and business executives.
The sessions will offer tips and information on building your audience, monetizing your content, journalistic ethics, engaging your communities and leveraging conversational marketing.
For additional information on BlogWorld, keynotes, speaker topics, session descriptions and registration information is all available at http://www.blogworldexpo.com.
Press Contact:
Kelly Taylor for BlogWorld Expo
The Bohle Company
(310) 785-0515, Ext. 300
Blogger Contact:
Brian Solis
FutureWorks
408-428-0895 Ext. 101
###