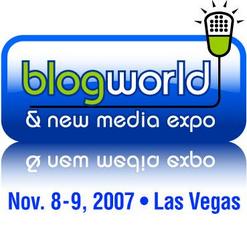 Naked Conversations: How Blogs are Changing the Way Businesses Talk with Customers
Las Vegas, NV (PRWEB) September 10, 2007
Journalists, social media pioneers, marketing experts and entrepreneurs will share their experience and advice about building audience, monetizing content, journalistic ethics, engaging communities and conversational marketing at BlogWorld & New Media Expo , the first-ever industry-wide blogging conference and trade show.
Scheduled for November 7 - 9, 2007 at the Las Vegas Convention Center, the conference will feature more than 60 sessions on blogging, podcasting, video blogging and other types of social media activities for new and experienced content creators, entrepreneurs and business executives.
BlogWorld will bring together leading new media gurus from all topic areas. Among those sharing expertise will be:
POLITICS:

TECHNOLOGY:

BUSINESS:

SPORTS:

MILITARY BLOGGING:

BUSINESS OF BLOGGING:

JOURNALISM:

Additional information on BlogWorld, speaker topics, session descriptions and registration information are all available at http://www.blogworldexpo.com. Discounted pricing is available through October 19.
Press Contact:
Kelly Taylor for BlogWorld Expo
The Bohle Company
blogworldpr @ bohle.com
(310) 785-0515, Ext. 300
Blogger Contact:
Brian Solis
FutureWorks
brian @ future-works.com
408-428-0895 Ext. 101
# # #