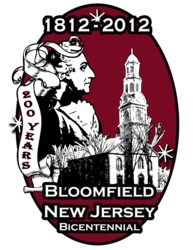 The Opening Ceremony is the first of dozens of bicentennial events planned in Bloomfield throughout the year
Bloomfield, New Jersey (PRWEB) March 14, 2012
The Opening Ceremony is the first of dozens of bicentennial events planned in Bloomfield throughout the year, including a parade, concert series, discussions, historical tours and more. A list of event dates and details, information on sponsorship, merchandise, donation and volunteer opportunities are available at http://www.bloomfieldbicentennial.com or by request via email at info@bloomfieldbicentennial.com.
"The Bicentennial Opening Ceremony is a great way to celebrate the 200th anniversary of the official incorporation of our town, as well as to preview the many other bicentennial-themed events planned during the year," said Janice Litterio, chairperson of the Bloomfield Bicentennial Committee. "We encourage all current and past residents of Bloomfield to participate in as many activities as possible as we respect our storied past and continue to build our future."
At the kickoff event, at which Mayor Raymond McCarthy and members of the Town Council will be in attendance in colonial period attire, the Bloomfield Girl Scouts will perform a full flag ceremony and the Bloomfield High School Chorus will perform the national anthem. Bloomfield resident John Cataldo, portraying Gen. Bloomfield, will then read the charter, followed by a "Happy Birthday Bloomfield" video presentation in which citizens extend their good wishes.
Bloomfield native, Richard Ruffalo, motivator, author, educator, and internationally recognized athlete, will also speak during the ceremony.
All attendees of the March 23, kick off event are invited to stay for refreshments in the Bloomfield High School cafeteria provided by the Town Pub of Bloomfield.
Other events planned to celebrate the 2012 Bloomfield Bicentennial are:
March 25, (2 p.m-4 p.m) -The Bloomfield Animal Shelter, the Bloomfield Recreation Dept. and the Neighbor to Neighbor Foundation will sponsor the Bicentennial Bunny arriving from a helicopter. Take pictures with the Bunny and join in the Easter Egg Hunt.*Rain date March 31 ** Bring your own camera to Pulaski Park:
March 27, (8 p.m.) The Historical Society of Bloomfield presents: The Morris Canal – by Richard Rockwell at Presbyterian Church on the Green, Parish House, 147 Broad Street.
April 27, (6 p.m.) - Planting of the Bicentennial Tree - site TBD:
April 29, (3 p.m.) - Bloomfield Middle School: Bicentennial Concert performed by The Bloomfield Civic Band.
May 22, (8 p.m.) - The Historical Society of Bloomfield Presents "The Photography of Charles Warren Eaton": Location TBD
May 28, (9 a.m.) - Bloomfield Memorial Day Parade with a bicentennial theme: (Broad & Warren Streets to Town Green) followed by Opening of the Sesquicentennial (150 year) time capsule by members of the BHS Class of 1962, and Old Fashioned Bloomfield Bicentennial Picnic.
June 13, (7:30 p.m.) - The Role of New Jersey in the Civil War: Speaker: William Gillette, Ph.D., Professor of History at Rutgers University, Sponsored by the Bloomfield Cultural Commission – Provided by Horizons Speaker Bureau of NJ Council for the Humanities. Location: Oakeside Bloomfield Cultural Center, 240 Belleville Ave.
June 25, (7 p.m.) - Bicentennial Summer Concert Series: Bloomfield Federation of Music, "American Salute" Honoring Our Men & Women in Uniform at Bloomfield High School Auditorium
June 28, (6 p.m) - Bloomfield Educational Foundation's Sunset Classic Road Race (starts at Broad & James Streets)
July 4, - Fourth of July Bicentennial Fireworks Spectacular 5:30 p.m. (open), 7:30 p.m. (band), 9:15 p.m.(fireworks) Location: Foley Field/Memorial Park
July 9, 10, 16 & 17, (7 p.m.).Bicentennial Summer Concert Series at Bloomfield High School Auditorium.
July 23, (7 p.m.) Bicentennial Summer Concert Series at Town Green.
July 24 & 31, (7 p.m.) Bicentennial Summer Concert Series at Brookside Park.
Check website for updates
Bloomfield, located in northern New Jersey, was originally part of Newark in 1666 when that town was settled. In 1796, the congregation of the Old First Church (now the Presbyterian Church on the Green) was formed, which honored Revolutionary War General Joseph Bloomfield by naming the newly formed parish after him, The Presbyterian Society of Bloomfield. In 1812, the town separated from Newark, and incorporated as the Township of Bloomfield, taking its name from the aforementioned Presbyterian parish. Bloomfield originally covered 20.52 sq. miles (now 5.4 sq. miles) and included Belleville, Montclair, Woodside, Nutley and Glen Ridge, each separating from Bloomfield in 1839, 1868, 1871, 1874 and 1895, respectively.
The Bloomfield Bicentennial logo was created by Susanne Abitbol, president of Bloomfield Graphics after consultation with the original bicentennial steering committee in mid-2011. Ms. Abitbol's historic design uniquely conveys the town's beginnings with a profile of General Joseph Bloomfield looking toward the Bloomfield Presbyterian Church on the Green which was named in his honor in 1796. Subsequently, the town adopted the name Bloomfield when it was incorporated in 1812.
About the Bloomfield Bicentennial Committee
The Bloomfield Bicentennial Committee was formed in 2011 to plan and facilitate the 200 year birthday of Bloomfield, New Jersey, which will be celebrated with a series of events starting March 23, 2012, and continuing throughout the rest of 2012. The theme "Respecting Our Past – Building Our Future" captures the fact that Bloomfield has a vast history while at the same time looks ahead to a better future.
Bloomfield Bicentennial sponsors to date include ShopRite of Brookdale, Town Pub, Bloomfield Animal Shelter volunteers, Candice Straight, AMVETS Post #70, Annin Flagmakers, Bloomfield Graphics, Mountainside Hospital, Bloomfield Democratic County Committee, TD Bank, The Sign Post, XCEL Federal Credit Union, VFW Post 711, the Nutley Historical Society, The Sceurman Family, Media Consultants, A T.E.A.M. Approach, Janice Litterio & Family, The Nesto Family, The Provident Bank and Investors Bank.