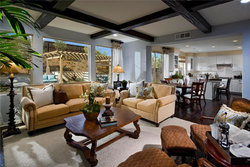 The state of California has set aside $100 million for this tax credit as a way to help consumers achieve their goal of homeownership in 2010
Newport Beach, CA (PRWEB) May 4, 2010
William Lyon Homes is moving families one step closer to their new dream home in Carlsbad with their Name It & Claim It program. Now is the perfect time for those looking for an unbeatable home buy to visit Blossom Grove at The Foothills, where they may be eligible to claim up to $10,000 in State Tax Credits* before funds run out. Visit http://www.claimyour10k.com to learn more about eligibility requirements and get moving to Blossom Grove today.
"The state of California has set aside $100 million for this tax credit as a way to help consumers achieve their goal of homeownership in 2010," explained Lesley Pennington, Director of Sales for William Lyon Homes. "However, these funds are expected to run out quickly, which means eligible Blossom Grove buyers should make their selection as soon as possible to assure their participation in the state tax credit, take advantage of great pricing from the mid $500,000s, and lock in a low mortgage interest rate before they rise to keep monthly payments down. With FHA** financing that requires only 3.5% down, plus up to $10,000 in State Tax Credits, the numbers are quite favorable for smart consumers who know there's never been a better time to buy a new home and move forward with their family's future at Blossom Grove."
"After guests tour the beautiful models and speak with a sales counselor, they should take a look at The Touch Screen technology on display at the Sales Gallery. This innovative tool offers an interactive overview of Blossom Grove's site plan, individual floorplan availability with architectural styles, local destinations and other valuable information at their fingertips. Smart consumers know it matters who their builder is. William Lyon Homes is an established builder who has delivered new homes to families in the West for more than 55 years and who continues to inspire consumer confidence with a quality product and excellent customer service," Pennington added.
Offering big choices and bigger value, Blossom Grove is the answer to every family's dream of new home living in Carlsbad. Residents will enjoy a convenient location just three miles from the beach in the foothills along Cannon Road, east of El Camino Real, access to the acclaimed Carlsbad Unified School District and a recreation-rich master plan that continues to unfold within this picturesque setting.
The neighborhood's one- and two-story floorplans are well-suited for casual living and range from approximately 1,992 to 2,840 square feet of interior space, with three to five bedrooms, great rooms, two to three bathrooms, two-car garages and two-car garages plus storage. Open kitchens, bonus rooms and courtyards highlight individual residences.
Blossom Grove homeowners will have access to a variety of private resort-style amenities, parks and trails. The Foothills Recreation Center is planned to include a swimming pool, barbecue/picnic area, paddle tennis courts and a yoga exercise circle.
The City of Carlsbad has plans for a new proposed 13.5-acre community park. Located across the street from The Foothills, the Carlsbad Unified School District plans to break ground this year on a new high school campus that is proposed to open in fall of 2013.
A 3% Broker Referral Fee is offered at Blossom Grove. Brokers must bring their client on their first visit to register. Broker Referral Fee to be paid at the close of escrow.
*The California State Tax Credit applies over a 3-year period, is for up to $10,000 or 5% of the purchase price of a newly built home, whichever is less, and is available for homes that close escrow on or after May 1, 2010 and on or before December 31, 2010 or on or before August 1, 2011, pursuant to an enforceable contract executed on or before December 31, 2010. The credit pool is limited to $100M and will be applied on a first come, first served basis. Not all buyers will qualify for the state tax credit. William Lyon Homes is not responsible for confirming whether the State Tax Credit is still available, nor is giving legal, accounting or tax advice or consulting of any kind. Please consult with qualified legal, financial and tax advisers to determine whether you will qualify for all or any portions of the state tax credits. Visit http://www.ftb.ca.gov/ for complete details.
**FHA program guidelines and loan limits are subject to change. All loans subject to credit approval; restrictions may apply. Down payment, payment terms and rates vary based on market conditions and qualifying requirements.
William Lyon Homes means it when they say that they put themselves into their homes. That's because they build each and every home as if it were their own. They've earned a solid track record for constructing homes throughout the West since 1954.
To visit Blossom Grove, travel the I-5 and exit on Cannon Road east. Pass El Camino
Real, turn left on Hilltop Street into The Foothills community and follow the signs. The Sales Gallery and Models are open daily from 10 a.m. to 6 p.m. For more information, call 888-810-3017 or visit http://www.lyonblossomgrove.com.
Prices are effective as of the date of publication. All homes are subject to prior sale. Prices and availability of homes are subject to change without notice. DRE Officer License: 00982816.
###