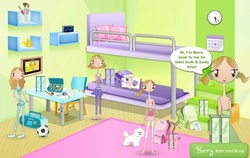 At Blossom we feel that girls should not 'make up' their face, but should care for their face. By using only natural, pure and gentle ingredients, Blossom is formulated to work with the delicate needs of blooming skin. With four unique collections, for skin, hair, bath and body, every product is personalized to work with a variety of complexions
Pickerington, OH (PRWEB) May 1, 2008
Blossom4Girls, a new brand for girls that features healthy skin care products, is hosting a contest for tweens. To celebrate the beginning of summer vacation and school letting out, Blossom will be throwing a slumber party for one lucky winner and her friends.
The theme of Blossom and the summer vacation School's Out Contest is using healthy skin care products and promoting self-esteem and community involvement for tweens. Blossom believes in providing positive role models for girls and offering self-care products that are safe to use.
"Now that school is out, we wanted to use summer vacation to spread the word about health skin care products and self-esteem. We also wanted to give away a Blossom slumber party kit so that one lucky winner and her friends can pamper themselves right," says Brandi Wallace, founder of Blossom.
Blossom was founded by Chris and Brandi Wallace who have six children, five of which are girls. The Wallaces wanted to help promote a healthy, community-minded and positive lifestyle for girls.
"When my girls were still very young, I began to research the effects of sun damage on young skin. The goal of the creation of this skin care product line was to provide young girls and their mothers with the information they needed to properly care for themselves. We also wanted to inspire them to be happy with who they are by enhancing the natural beauty they were born with," says Brandi.
The Blossom self-care line of products is named after the four oldest Wallace daughters - Bailey, Bexley, Brooklyn and Berry. The Wallaces had four daughters when the company was started and recently had another baby girl whose name is Blossom. The Blossom girls are sisters and best friends and they know that being bold, smart and strong is the key to looking and feeling good.
"At Blossom we feel that girls should not 'make up' their face, but should care for their face. By using only natural, pure and gentle ingredients, Blossom is formulated to work with the delicate needs of blooming skin. With four unique collections, for skin, hair, bath and body, every product is personalized to work with a variety of complexions," explains Brandi.
The Blossom website has lots of great facts for summer vacation safety; that is especially important when school is out. There are also fun online games, wallpaper downloads and buddy icons available for free. Girls can throw a Blossom party of their own, create invites and make a party planner.
To learn more about Blossom and the School's Out Contest, visit Blossom4Girls.com.
About Blossom
Blossom is a spirited new brand of self-care 101 made for girls, by girls. Good skin and healthy habits start early. That's why Blossom is all about self-esteem and community involvement. Blossom is committed to changing and enriching the lives of girls around the country and believes in giving back to those who are less fortunate. B.L.O.S.S.O.M. (building leaders openly standing strong on missions) Community Outreach Program, is designed to do just that. The Blossom brand will design programs to help get young girls involved in their community. Sponsored events around the country will show girls the benefits of taking the initiative to help others. Programs will include 'Back to School' where girls are instrumental in acquiring donated school supplies for low-income families, Community Clean Up and Adopt-a-Grandparent. If we instill these values in America's youth and give them the opportunity to give of themselves, they will see the value of using their life to help others and in turn, have higher self-esteem.
# # #