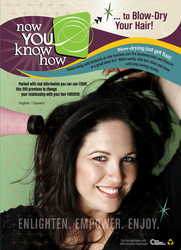 Now You Know How...To Blow-Dry Your Hair
Nashville, Tenn. (Vocus) October 1, 2009
Blow-Dry guru and creator of the DVD "Now You Know How…To Blow Dry Your Hair" Kimberly Clo has launched a Facebook group dedicated to helping women and men all over the world with their hair questions.
"I know from personal experience that in most salons, stylists don't typically have the time to answer all of the client's questions about styling their hair at home," says Clo. "This feels like the best way to help people really get the answers they are looking for; instead of reading a magazine article that may or may not apply to them."
Clo's desire is to assist women and men with their communication to their personal stylist. "Sometimes people get intimidated when they actually get to the salon and are uncertain how to explain what they really want."
The Facebook group is called "Bad hair days SUCK and their days are numbered! " (http://bit.ly/bad_hair_days_suck)] and anyone interested is encouraged to join.
Kimberly recently launched the website NowYouKnowHow.com which highlights the tools women need to do a fabulous job blow-drying and styling their own hair.
The "Now You Know How…To Blow Dry Your Hair" DVD is available from Amazon.com the Now You Know How website and the video is available for immediate download at filmbaby.com.
About Now You Know How™
Now You Know How™ was formed in 2008 with a mission to enlighten and empower women to do something they never thought they could do. Today the hair, tomorrow the world!
The "Now You Know How...To Blow-Dry Your Hair" instructional DVD is available at NowYouKnowHow.com in addition to high-end blow-dryers, excellent hair brushes and the coolest hair clips ever.
Contact:
Sunny Spyridon
615-227-NYKH (615-227-6954)
# # #