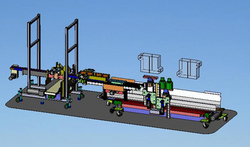 Saint Louis, MO (Vocus) November 24, 2010
MTM Systems, a manufacturer of downstream blow molding equipment, introduces the MTM 2001D takeaway system. Featuring dual servo controlled gripper hands, the 2001D increases productivity, eliminates downtime and reduces long term operating costs in bottle manufacturing operations. It was designed to integrate with Bekum's H Series machines but also works well with Fischer systems and other shuttle type blow molding equipment.
Features include:

Exclusive dual gripper hand design (water cooling capable)
Reduced overall motion for super fast cycle times
Allen Bradley PLC control system
Allen Bradley servo motion control system
HMI color touch screen
"EASY TOUCH" self teaching setup mode
Convenient programming accessibility
Recipe system capable of 99 alphanumeric recipes
Self diagnostic screen for quicker and easier troubleshooting
Mobile main cabinet control cart for easy startup and operation
Heavy Duty linear rail design
Multiple directional scrap conveyor and fully guarded to ANSI specifications
"All of the features of the new MTM 2001D takeaway system add up to a takeaway system that is easy to use, offers the fastest cycle time in the industry and eliminates nicks and scratches on bottles," said Greg Wood, President of MTM Systems. "The MTM 2001D takeaway system's new design provides less wear and tear on the overall system and is backed by MTM System's unparalleled service and support and huge inventory of in-stock parts. Our goal remains offering the best solution to your takeaway needs at a competitive price."
About MTM Systems
MTM Systems has over thirty years of experience in machine design & manufacturing, mold making, machining, and systems integration. We have designed, manufactured and installed downstream blow molding equipment including takeaways, spin trimmers and deflashers for virtually every type of blow molding machine on the market. MTM machinery can be found in production lines worldwide. From the small custom blow molder, to large-scale multi-plant operations, MTM cost-effectively provides innovative automation solutions many of which are patented. For more information, visit http://www.mtmsystems.com.
# # #