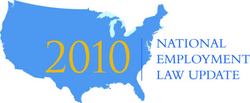 Old Saybrook, CT (Vocus) September 10, 2010
The $200 early-bird discount rate for the fourth-annual National Employment Law Update conference has been extended through June 30, 2010. The conference, presented by BLR® – Business & Legal Resources, will take place at the Venetian in Las Vegas on Oct. 27-29, 2010. The $200 discount will expire at midnight on June 30, 2010.
Conference attendees will receive updates from a slate of expert speakers on new federal legislation, regulations, and court cases, as well as practical tips for dealing with these changes and reducing litigation risks. Attendees will also have the opportunity to sign up for optional, interactive pre- and post-conference workshops.
For more information, or to register, go to http://events.blr.com/nelu/.
To hear what attendees from past National Employment Law Updates have to say please visit:
youtube.com/watch?v=DD-lZijS6Bo
youtube.com/watch?v=QIkElMFTg-w
youtube.com/watch?v=cgiex4VM1xQ
youtube.com/watch?v=ytwPf5_c0j8
For media that would like more information please contact us at 800-727-5257, Ext. 2442, or e-mail at Media@BLR.com.
About BLR—Business & Legal Resources
BLR is the leading provider of employment, safety, and environmental compliance solutions. BLR has been an acknowledged authority in covering state as well as federal law for over three decades, and employers know that they can count on BLR's industry-leading compliance and training solutions to keep them out of legal trouble, avoid fines, and save money. BLR offers solutions for business owners, executives, employees, and managers of HR, compensation, safety, environmental, or training for all-sized organizations and industries. Simply put, anyone worried about how their local state agency or national DOL, OSHA, and EPA legal requirements impact their organization can benefit from BLR. For more information, please visit http://www.BLR.com or call 800-727-5257.
Media Contact:
Karin Staschke
BLR®—Business & Legal Resources
800-727-5257, Ext. 2442
Media(at)BLR(dot)com
###