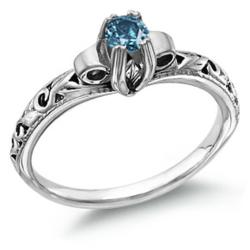 (PRWEB) February 07, 2012
Jewelry retailer Apples of Gold announced the much-anticipated release of its 2012 collection of blue diamond rings. Radiant in color and quality, this selection of rings has bolstered ApplesofGold.com to new heights as a seller of fine jewelry. Blue diamonds are rare, prized gems with a distinct allure, due to their rich, deep blue hue.
Blue diamonds were made famous by the storied Hope Diamond, and the fictitious "Heart of the Ocean" diamond in the epic love story, Titanic. But with Apples of Gold's new line of rings, buyers can capture their own glorious treasure and still take advantage of the retailer's fair pricing. At 40 percent below the average retail price, Apples of Gold makes buying blue diamonds practically a steal.
With the blue diamond boom, buyers may be overwhelmed with the plethora of products that border on the gaudy, but Apples of Gold provides high quality, sophisticated rings that are sure to be a staple piece of any jewelry wardrobe. For example, the simple yet gorgeous blue and white diamond ring boasts a one carat bold blue gem in the center with 20 smaller white diamonds on the side settings and surrounding the main diamond. From any angle, this is an elegant piece, and could be used as a fashion-forward engagement ring or an everyday ring.
Another stunning option is the blue and white diamond swirl ring. This piece truly channels the beauty of the sea with a perfectly coiled spiral of blue diamonds, reminiscent of a scintillating wave. Flanked by nine white diamonds, this ring is a statement in itself, while still creating a classy look. The 14K white gold perfectly complements the diamonds' brilliance.
For those wanting an edgier but artsy motif, look no further than the Roman Art Deco blue diamond ring. Set with a 0.75 carat blue diamond in the center and guarded by two 0.10 white diamonds on either side, this is a ring of style and substance. The blue diamond is set in a hexagon figure, ensuring the color takes center stage.
Apples of Gold also allows men to get in on the blue diamond action with a half-carat of ten blue beauties set in white gold. With a 10mm broad gold band, this ring is clearly man size and affords guys a great way to send their own message of sophistication.
With this 2012 collection of blue diamond rings from Apples of Gold, buyers can bring home a trend that's sure to last. From solitaire blue diamonds to several stones, this jewelry retailer is quickly proving to be an authority in blue diamond realty.
###