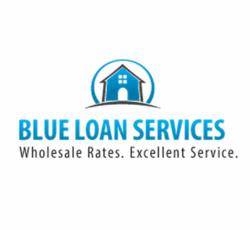 San Diego, CA (PRWEB) May 07, 2013
Blue Loan Services is a full service mortgage company that has been helping homeowners within California to find the best possible mortgage rates for quite a few years. By offering some of the lowest wholesale rates in the industry and providing excellent customer care and quick loan processing and closing times, the company has earned a reputation as one of the best lenders in California. Recently Lender 411, a loan servicer and lender review website, named Blue Loan Services as one of their Top 50 Lenders in California.
The company offers a wide range of loan programs and specializes in home refinances and home purchase loans. These two loan options have been gaining in popularity recently, due to the decrease in average mortgage interest rates which reached record lows last year and continue to stay near these historical lows. The team at Blue Loan Service, headed by proud U.S. Army veteran and loan specialist Brandon Blue, has many years of experience with refinancing and home purchase loans and thus can help those California residents who wish to take advantage of the low rates to do so as quickly and easily as possible.
Those who have used the services of the company, already, have many great things to say about Brandon Blue and the Blue Loan Services Team. A couple from Ventura, California, that closed a refinance loan with the company this April, had this to say in their Blue Loan Services review: "Brandon Blue (and his staff) were a HUGE help with our refinance. He was honest with me from the get-go, and I really appreciate that he explained everything to me step-by-step. I'll have no problem recommending Blue Home Loans to anyone that asks!"
Another Blu Loan Services review from a client living in Menlo Park, CA, who successfully closed a second refinance loan with Blue Loan Services earlier this year states: "I've refinanced twice with Brandon; both times he and his team provided exceptional service. His rates are consistently the best among many, extensive, and repeated comparisons. His online facility for providing documentation is both convenient and efficient. His team smoothly handles complications such as subordination. I highly recommend Brandon."
Another satisfied client who was able to close a refinance loan with the company praises Blue Loan Services saying that the team is, "Knowledgeable and very quick response time. Very pleased with Brandon Blue, no surprises, all up front business. And Blue's rate beat the other much larger companies of competitors. Brandon Blue's "portal" URL which I used kept all documentation completely organized. Today is the modern age of e-documents and e-signatures. Brandon Blue is right in-step with modern technology which is the fastest, most convenient, and reliable way to do home loans today. Doing business with Brandon Blue put us at ease because of his easy to understand way of communicating complex issues. This review speaks highly of Blue Loan Services only because this is our 4th refi within the last 8 years and we felt he was the best overall when compared to all the others."
These and many other client reviews show why Blue Loan Services was recognized as among the Top 50 Lenders in California. The team's excellent service, quick communication and processing times, as well as the online portal that makes the whole process, from start to finish, that much easier for the clients, have made the company one of the most trusted and favored lenders around. For more information on the company please visit Blue Loan Services by clicking here or calling call 1-888-929-BLUE (2583).
CA Dept of Real Estate -- Licensed Broker #01094374 NMLS #938365