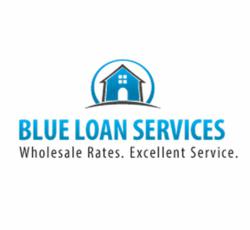 San Diego, CA (PRWEB) May 14, 2013
Blue Loan Services is a full service loan company that was recently awarded a top spot in Lender 411's list of Top 50 Lenders in California. The company's dedication to provide the lowest wholesale mortgage rates and loan programs to fit every mortgage scenario a homeowner might have has brought it a reputation as one of the most favored lenders for those living in the California area.
A number of Blue Loan Services reviews reveal why Brandon Blue, Senior Loan Officer of the company, and the rest of the Blue Loan Services team of mortgage professionals have earned their place on this list. A very recent review from a client living in Ventura, California, says, "Brandon Blue (and his staff) were a HUGE help with our refinance. He was honest with me from the get-go, and I really appreciate that he explained everything to me step-by-step. I'll have no problem recommending Blue Home Loans to anyone that asks!"
Another satisfied client from Rancho Palos Verdes, California, says, "We've bought and sold many houses, so financing and refinancing are not new to us. We spoke with several lenders and brokers, but Brandon Blue was the only one who figured out a way for us to refinance in a way that made sense and saved us a whole lot of money. He was reliable, trustworthy, and calm, and we'd love to work with him again."
One feature of the company that many reviews have given high praise for is the automated online application system that enables clients to submit and sign documents online as well as keep track of the status of their loan. This review, from a Menlo Park resident, shows how helpful this system is: "I've refinanced twice with Brandon; both times he and his team provided exceptional service. His rates are consistently the best among many, extensive, and repeated comparisons. His online facility for providing documentation is both convenient and efficient. His team smoothly handles complications such as subordination. I highly recommend Brandon."
But just because most of the business is done online does not mean that the company skimps on the personal attention to each client's specific loan situation. This is shown in this Blue Loan Services review from a Redwood City homeowner:
"Everyone I dealt with at Brandon Blue was extremely professional, responsive and courteous. I was refinancing my primary loan, but had a 2nd, so a subordination was needed from that 2nd mortgage company. There was some doubt early on whether that subordination would happen in time, but Shari at Brandon Blue was calling my 2nd mortgage company on a nearly daily basis to push them to get it done! She was key to my refinance completing on time. The process Brandon Blue has in place for communicating with their customers is very robust. I've probably refinanced 10 times in my life, and I've never had anywhere near this level of communication and willingness to help from any other company. I would highly recommend Brandon Blue for anyone with mortgage needs!"
These are just a few of the reviews that clearly show why the company has earned its place as one of the top California lenders. Those who would like to learn more about Blue Loan Services and get a Free Fast Rate Quote can click here or call 1-888-929-BLUE (2583) to speak to one of Blue Loan Services' experienced mortgage professionals.
CA Dept of Real Estate -- Licensed Broker #01094374 NMLS #938365